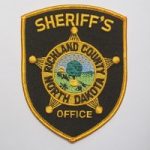 KBMW NEWS
August 27th, 2018
The Richland County Sheriff's Office was dispatched to a traffic accident on Richland County Road 2 just after noon Monday. A Ford F150 left the roadway and traveled into the south ditch. It then crossed over the roadway and went into the north ditch, where it struck an approach and came to rest in a field.
The driver, 61-year-old Steven Hanson was taken to Sanford Hospital in Fargo. It is believed he was having a diabetic reaction during the accident. No word has been given on Hanson's condition.
Abercrombie Fire Department, Kindred Ambulance, Christine Fire Department, and the Richland County Sheriff's Office responded to the scene.