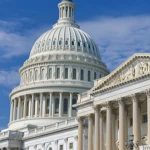 House Democrats were expected to push through more individual spending bills late this week that Senators will not consider. 
A sign of partisan politics and split leadership, the House was expected to move spending bills that would secure funding for federal agencies, including the Department of Agriculture, during the ongoing government shutdown. 
The piecemeal of spending bills is largely seen as a symbolic move, as Senate Republicans and leadership will block the action. The White House has already rejected the plan, noting that it falls short of Trump's goal of border security, or funding for a border wall. 
Both sides, however, the Republican-led Senate and President Trump, and the Democratic-led House appear to be digging in their heals on the issue, refusing to budge. 
House Speaker Nancy Pelosi said earlier this week "the senseless uncertainty and chaos of the Trump shutdown must end, now."