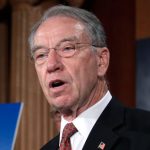 Senate Finance Committee Chair Chuck Grassley says he'll advise President Trump to withdraw from the North American Free Trade Agreement if Democrats try to reopen the U.S.-Mexico-Canada Agreement. 
The Iowa Senator says Democrats problems with the deal include enforcing environmental protections and labor standards. He says those issues can be dealt with through side letters without once again opening up the agreement. 
"If we get to the point where we have to go back to the negotiating table, I will encourage the president to pull out of NAFTA and hope they (Democrats) are smart enough not to let that happen," Grassley says. 

"How can you want to go back to an environment in which there are higher tariffs on our products going into Mexico than there is on Mexican products getting into our country?" 
Grassley says the president will need to lift steel and aluminum duties on Canada and Mexico "if we want to get agriculture behind the new three-way trade pact when it comes up for a vote in Congress." 
Grassley also doubled-down on his demand to be included in U.S. trade talks with the European Union when he met with the EU's Trade Commissioner for 45 minutes on Wednesday. 
After the meeting, Cecilia Malmstrom, the Trade Commissioner, said:
"Europe is not able to negotiate ag products."

 
---
Photo by J. Scott Applewhite