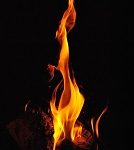 KBMW News
February 1st, 2019
A detached garage was destroyed by fire in rural Otter Tail County Friday morning. No one was injured, but the Otter Tail County Sheriff's Department tells KBMW news that the shop and its contents were valued in excess of $200,000.
The fire's origins are being investigated, but it may have been caused by an extension cord plugged into an outlet powering the block heater of a vehicle parked outside of the building.
Fire crews from Elizabeth, Pelican Rapids, Fergus Falls, and Rothsay responded to the blaze.