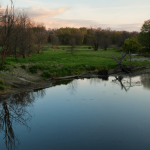 The U.S. Department of Agriculture is moving forward on Highly Erodible Land and Wetland Conservation regulations. 
The American Farm Bureau submitted comments to the agency asking it to make sure the new Interim Rule balances the benefits for both farmland and wetland, as Congress intended. 
As it was written, the Interim Rule makes it much more difficult for producers to participate in the program and fails to give farmers an opportunity they should have to participate in the process. 
Farm Bureau says in written comments to the USDA that:
"These conservation compliance programs operate fundamentally as regulatory programs, so they should operate with all the duties and rights that such a regulatory program entails."

"Equally important, all guidance, policy, and rules must match up with the statute." 
Farm Bureau says USDA has been making regulatory determinations for far too long based primarily on guidance and policy that wasn't put through the required public process. 
Farm Bureau says that error permeates the wetland identification and appeals process. 
"USDA holds all the cards, leaving farmers without the necessary tools to protect their property and due process rights," the group says in its written comments.
---
Photo Credit: Marion Doss / CC BY 2.0