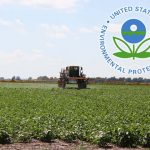 A U.S. appeals court will reconsider its recent decision ordering the Environmental Protection Agency to ban chlorpyrifos. 
The Trump administration persuaded the court to reconsider the ban, according to Reuters, as the 9th U.S. Circuit Court of Appeals said it will again review former EPA administrator Scott Pruitt's March 2017 refusal to ban chlorpyrifos for use on crops such as fruits, vegetables and nuts. 
Pruitt's ruling reversed a 2015 Obama administration plan to extend a 2000 ban on the pesticide that had covered most household settings. 
The appeals court directed EPA to ban chlorpyrifos last August within 60 days, citing the agency's failure to debunk, "scientific evidence" associating the pesticide with harmful effect to farmers and children. 
The EPA in its appeal of the decision said the appeals court lacked jurisdiction to review the ruling by Pruitt, who later resigned.
---
Photo by DTN