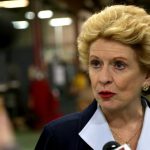 Senator Debbie Stabenow says the government shutdown, which delayed the dairy safety net improvements from the 2018 farm bill, may be jeopardizing dairy farmers' ability to access loans and credit. 
In a letter to three regulators who oversee agricultural credit providers, Stabenow urged lenders to estimate the farm bill benefits as they work with farmers to analyze their financial needs for the upcoming year. 
Dairy farmers still face a struggling market and the 2018 farm bill, Stabenow says, dramatically expands support for dairy farmers, providing improved coverage options at affordable rates. 
Stabenow urged regulators to be flexible and work with lenders to ensure farmers are accounting for the benefits they will receive through the new dairy coverage options so they can accurately estimate their income and get the right amount of credit they need. 
While noting it's impossible to predict markets, Stabenow says it's "crucial for dairy farmers and their lenders to understand the new dairy safety net as they discuss financing for the years ahead."
---
Photo by Mac Snyder | MLive.com