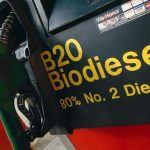 The National Biodiesel Board Tuesday urged the House Ways and Means Committee to quickly extend the biodiesel tax incentive. 
Kurt Kovarik , Vice President of Federal Affairs for the National Biodiesel Board, submitted testimony to the Temporary Policy in the Internal Revenue Code hearing. 
The NBB official told lawmakers the biodiesel industry urgently needs an immediate extension of the biodiesel and renewable diesel tax incentive to end the current climate of policy uncertainty. 
In the testimony, Kovarik writes: 
"The biodiesel and renewable diesel industry cannot reach its full potential with on-again, off-again tax policy." 
Specifically, the Biodiesel Board is asking lawmakers to immediately extend the biodiesel tax incentive for 2018 and 2019, at least, "to end the current climate of uncertainty surrounding the industry."
---
Photo by L.G. Patterson, Recess, Inc.