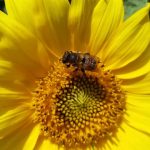 A coalition of agriculture groups is urging farmers who are using treated seed this spring to follow label guidelines to protect pollinators. 
Farmers today rely on neonicotinoid products as a tool to manage insects, increase yields and boost revenues. 
But, as farmers continue their commitment to the environment and pollinators, the Growing Matters coalition is providing tips for handling treated seed as part of it's BeSure! Campaign. 
The coalition urges farmers using treated seed to follow handling, storage, planting and disposal guidelines on product labels, as well as using seed flow lubricants that minimize dust. 
It's also important to thoroughly clean equipment used to plant and handle treated seed as to keep all treated seed out of the commodity grain channels. 
Growers can learn more tips online at www.growingmatters.org/besure, powered by the Growing Matters coalition, National Pesticide Safety Education Center and American Seed Trade Association.