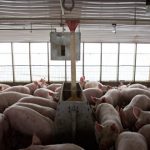 China may remove bans on U.S. poultry imports, but not on ractopamine-treated pork. 
As the U.S. and China seek to conclude trade negotiations, and African swine fever consumes China's hog production, the U.S. has asked China to remove its ractopamine ban. 
Reuters says China has resisted the move for pork, but seems receptive to lifting a ban on U.S. poultry.  
Data from Rabobank shows African swine fever seems likely to reduce China's pork output by 30 percent this year. 
China will need exports to offset the losses, but the exports could come from other suppliers, depending on the outcome of the U.S.-China trade negotiations. 
Ractopamine is used to promote growth in U.S. pork and China banned its use in livestock in 2002. 
Meanwhile, China banned U.S. poultry in 2015 during the avian influenza outbreak. Before the ban, the U.S. shipped $390 million worth of U.S. poultry to China. 
The USA Poultry and Egg Export Council values China's poultry market at $500 million, representing a major opportunity for U.S. producers.
---
Photo by REUTERS/Daniel Acker