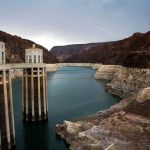 President Donald Trump this week signed a drought contingency plan for the Colorado River. 
Supported by all 14 Senators in impacted states, the Colorado River Drought Contingency Plan Authorization Act implements a water sharing agreement between Arizona, Colorado, Wyoming, Utah, California, New Mexico and Nevada. 
The plan was approved on a voice vote in the U.S. House and was "considered approved" and sent directly to the White House by the Senate. 
The agreement establishes new water conservation measures to protect reservoir levels at Lake Mead and Lake Powell, using voluntary water reductions and management strategies to avoid historic lows in Colorado River reservoirs, which would trigger dramatic water delivery cuts. 
The U.S. Department of Interior notes that Since 2000, the Colorado River Basin has experienced historic drought and dry conditions. 
Currently, the combined storage in Lakes Powell and Mead are at their lowest levels since Lake Powell initially began filling in the 1960s.
---
AP Photo/John Locher, File