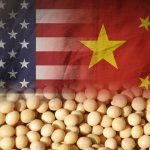 The American Soybean Association says U.S. farmers are frustrated by the lack of progress between the U.S. and China in bringing the trade war to a close. 
The dispute threatens soybean prices and farmers' ability to even stay in business. 
The ASA has consistently opposed using unilateral tariffs to address U.S. trade deficits with China and other countries. 
The organization supports the negotiation of trade agreements and other measures that can increase U.S. agricultural exports, including soybeans. 
"The U.S. has been at the table with China 11 times and still hasn't closed the deal," says ASA President Davie Stephens. 

"What that means for soybean farmers is that we're losing a valuable market, stable pricing, and losing an opportunity to support our families and communities." 
He says the trade negotiations are directly impacting farmers' livelihoods. 
The organization says the soybean industry realizes the Administration's reasons for trying to force China to make structural changes to its predatory economic policies. 
However, ASA continues to recommend that the U.S. achieve these goals through coordinated actions with like-minded countries. 
"The soybean market in China took 40 years to build…" Stephens says. 

"…and as this confrontation continues, it will become increasingly difficult to recover. Soybean farmers aren't willing to be collateral damage in an endless trade war."