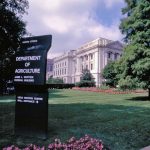 The Senate Agriculture Committee approved three more of President Trump's nominees for USDA positions. 
The Hagstrom Report says the committee approved Scott Hutchins to be Agriculture Under Secretary for Research, Education, and Economics, as well as Mindy Brashears to be Under Secretary for Food Safety. 
The committee also approved the nomination of Naomi Earp to be Assistant Secretary for Civil Rights. 
The vote was done by voice because the committee actually approved the nominations last year. 
However, the Senate failed to approve them before the end of the last Congressional session. 
Trump since re-nominated all three candidates. 
The committee didn't think it was necessary to hold another confirmation hearing. No date has been set yet for the full Senate vote on confirmation. 
Ranking Member Debbie Stabenow wasn't happy that the Trump Administration hired all three nominees as deputy secretaries, which meant they were able to work without Senate approval. 
Stabenow voted for all three candidates, including Earp, who she voted against last year.
---
Photo by Agri-Pulse