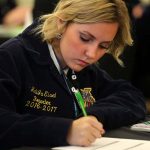 Ag equipment dealers and manufacturers continue to take steps to inspire the next generation to consider looking for careers in agriculture. 
A joint initiative put together by the Association of Equipment Manufacturers looks to make that happen. 
The goal is to increase the number of equipment-specific courses taught in the nation's high schools in order to increase awareness of career possibilities in the equipment manufacturing industry. 
The Equipment Dealers Association and the Farm Equipment Manufacturers Association also contributed to the program that's awarded partial scholarships for equipment certification courses to 36 educators from 12 states. 
The courses are set to begin this summer. 
Upon completion, teachers will be certified to teach the same courses to high school students beginning this fall. 
The new courses could potentially reach up to 1,500 students in the upcoming school year. Curt Blades, Senior VP of Ag Services at AEM, says they're fully committed to workforce development and are proud to help 36 teachers begin teaching the courses starting in the fall. 
"By leading a teacher scholarship program in partnership with the Farm Equipment Manufacturers Association and the Equipment Dealers Association, we have a greater chance to make students more aware of opportunities on the equipment side of the ag industry," Blades says.
---
Photo by FFA