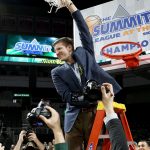 North Dakota State announced Thursday a two-year contract extension for head men's basketball coach David Richman through April 2022.
The Wahpeton High School graduate is entering his sixth year as NDSU's coach in 2019-20.
In five seasons as  coach, Richman has led the Bison to a 95-50 record and two NCAA Tournament appearances and three Summit League championship games. He is the second-fastest coach in NDSU history to reach 95 wins – and the fastest in the school's Division I era.
"We are excited to continue building on our successes, both on and off the court, over the past five years," Richman said in a new release by NDSU. "NDSU is a special place and we look forward to serving our committed student-athletes in the years to come."
In 2018-19, Richman coached the Bison to a Summit League tournament title and an NCAA tournament First Four victory over North Carolina Central – the second Division I tournament win in school history.
Richman has spent a total of 16 years at NDSU on the men's basketball staff, including seven seasons as the associate head coach prior to being named head coach in April 2014.