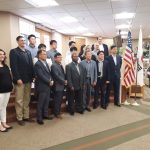 FARGO, ND (Inside Agriculture) – The U.S. Soybean Export Council and the North Dakota Soybean Council is hosting more than 50 international delegates from more the 10 countries this week in North Dakota.  The five international delegations represent countries from Southeast Asia, South Korea, Asia Subcontinent, Taiwan and the Americas.
Today the South Korean Delegation was at the Northern Crops Institute on the camp of NDSU for morning meeting.  This afternoon the 10 member Korean group will head to the Lovas Farm near Hillsboro, ND for a tour.
On the tour delegates will:
Learn more about U.S. Soy produced in the Northern Plains region of the U.S.
Gain a strong understanding of U.S. Soy logistics and infrastructure
Experience U.S. Soy export potential out of the Pacific Northwest
Learn from exporters/suppliers of U.S. Soy and how their operations in the Northern Plains region and PNW can support international soy demands.