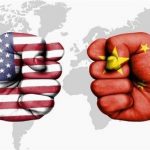 New technology export controls by China are part of the nation's efforts to shield "against certain countries," a shot at the United States as part of the ongoing trade war.
The new national technologic security management list announced over the weekend would blacklist "unreliable" foreign entities "deemed to have damaged the interests of Chinese firms," according to the South China Morning Post.
The U.S. and China remain embattled in a trade war after both sides appeared to be nearing an agreement in May.
However, a Department of Agriculture official included in the talks confirmed China was "backsliding" on agreed-to terms in the final round of negotiations.
The new tech controls from China are just part of the long list of tit-for-tat measures between the two that have largely resulted in tariffs on U.S. agricultural products.
Experts are eyeing an end of June meeting between President Trump and Chinese President Xi Jinping in Japan that could be "a replay of the summit in Argentina last December."
However, that meeting has not been confirmed.