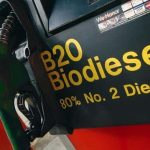 A letter from 22 lawmakers urges House leadership to immediately extend the biodiesel tax incentive.
The lawmakers, led by Democrats Rosa DeLauro of Connecticut, Cheri Bustos of Illinois and Dave Loebsack of Iowa, say failure to extend the tax incentives "jeopardizes environmental and public health benefits, as well as the future of the industry."
The incentive was retroactively extended for only 2017 in the last Congress, and the economic uncertainty over the status of the incentive is harming the biodiesel industry.
The National Biodiesel Board welcomed the call, stating biodiesel producers "are looking for an immediate resolution to the uncertainty they've faced since the start of 2018."
In the letter, the lawmakers call biodiesel a significant economic driver in rural communities, supporting more than 60,000 jobs.
The lawmakers are urging House leadership to consider a retroactive credit for 2018, and an extension through 2019.
The National Biodiesel Board adds that the industry "needs policy certainty to meet the nation's goals for low-carbon fuels, green jobs, and cleaner air."