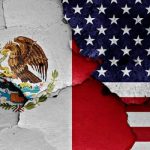 Mexican officials and President Trump differ in details regarding an agreement to stop the U.S. from imposing tariffs this week due to border crossings.
Speaking on CBS's Face the Nation over the weekend, a Mexican official simply stated that trade between both countries, including agriculture, is expected to increase over time.
President Trump last week on Twitter said a deal with Mexico would include immediate buys of U.S. farm products.
A deal was later reached, but there is no word or evidence to back his claims. The primary concern of the Trump administration was to address the migrants passing through Mexico to reach the United States.
Mexico did make border concessions in the agreement, vowing to send National Guard officers to the border and to not only allow those returned to stay in Mexico, but offer them work permits, health care and education.
Trump claimed over the weekend the new purchases of U.S. farm products by Mexico would start immediately.
Another Mexican official Monday said there was no side deal for agriculture made during the talks.
Mexico is already one of the largest markets for U.S. agriculture.