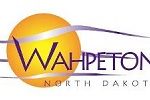 The east bound, right turn lane along 16th Avenue North in Wahpeton is closed between 7th Street North and East Drive.
The Contractor for the Main Lift Station Rehab Project will be doing some cleaning work associated with the Lift Station Rehab Project.
The closure will be in place for a minimum of two weeks.
If you have any questions, contact the City of Wahpeton Public Works Department at 642-6565.