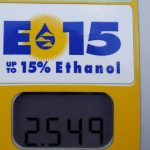 As President Trump visited an Iowa ethanol plant Tuesday, Growth Energy announced U.S. drivers have reached 10 billion miles driven on E15.
The announcement follows the Environmental Protection Agency's recent notice to allow for year-round E15 sales, likely to increase the pace of growth and miles driven on E15.
Growth Energy works with retailers to grow E15 availability, including recent expansions announced by Casey's General Stores and others, to give more drivers access to E15.
Growth Energy says E15 is currently sold at more than 1,800 stations in 31 states.
President Trump promoted the recent rule allowing for year-round E15 as part of his Iowa trip.
The President joined Iowa Representative Cindy Axne and Governor Kim Reynolds for a tour of  Southwest Iowa Renewable Energy, along with EPA administer Andrew Wheeler.
Trump also met with ethanol industry officials in Des Moines, including POET CEO Jeff Broin.
The EPA announced the final rule to allow year-round E15 last month at a separate Iowa ethanol facility.