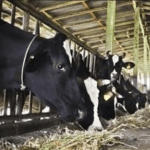 Signup for the new Dairy Margin Coverage Program begins on June 17th. It's operated by the Farm Service Agency and is a big part of the dairy safety net designed to help dairy farmers manage the volatility of milk and feed prices.
The new program offers protection for dairy farmers when the difference between the all-milk price and the average feed cost (the margin) falls below a certain dollar amount that's selected by each producer.
"With an environment of low milk prices, high economic stress, and a new safety net program with higher coverage levels and lower premiums, it's the right time for dairy producers to give enrollment some serious consideration when signup opens," says Ag Secretary Sonny Perdue.

"The choice is likely a no-brainer for many smaller dairies as the retroactive coverage through January has already assured them that the 2019 payments will exceed the required premiums."
The program is retroactive to January 1, 2019, with applicable payments to follow soon after enrollment.
Other than a $100 administrative fee, DMC offers catastrophic coverage to a producer at no cost.
Producers can opt for greater coverage levels for a premium combined with the administrative fee.