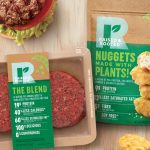 In a move anticipated for weeks, Tyson Foods introduced its first-ever venture into plant-based meat alternative products.
The company also announced it will be selling additional products that combine traditional meat blended with plant proteins.
Tyson will add a new brand to its collection of products, which will be called Raised & Rooted.
The company says the first product under the new brand name will be plant-based nuggets, coming out later this summer through various national retailers.
Blended burgers will be available to the general public in the fall.
Tyson says these are "healthier than competing plant-based-only patties."
Tyson President Noel White says:
"Today's consumers are seeking more protein options, so we're creating new products for the growing number of people open to flexible diets that include both plant-based protein and meat."
White says this move is all about "and" instead of "or" They remain firmly committed to growing their traditional meat business and expect to be a market leader in alternative protein as well.
"Alternative protein is experiencing double-digit growth and could be a billion-dollar business for our company," White adds.
---
Photo: Tyson Foods, Inc.