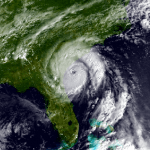 A tropical weather system is expected to hit flood-stricken Louisiana Friday and Saturday.
The National Hurricane Center says what will likely become Hurricane Barry, the storm will produce very heavy rainfall and strong storm surges along the Louisiana coast to the upper Texas Gulf Coast.
Farmers in Louisiana have battled flooding for more than 250 days, according to Louisiana Governor John Bel Edwards.
Now, the expected hurricane is predicted to drop 10-15 inches of rain in a 24-hour period.
The Mississippi River level is expected to reach 20 feet in New Orleans Saturday, a level not seen in roughly 100 years.
The storm is expected to continue to produce heavy rainfall into next week.
The storm comes as Louisiana farmers are nearing the start of corn harvest, with the Department of Agriculture reporting 41 percent of the crop in dent stage as of Monday.
The storm is forecasted to make landfall as a Category 1 hurricane Saturday evening near Lake Charles, Louisiana.