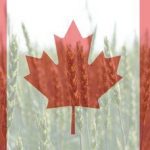 A group of Senators is urging the Trump administration to negotiate fewer restrictions on US grain exports to Canada under the U.S.-Mexico-Canada Agreement.
Senate Republicans Kevin Cramer and John Hoeven of North Dakota, along with Republican Steve Daines of Montana and Democrat Tina Smith of Minnesota, requested the action in a letter to US Chief Agricultural Negotiator Gregg Doud.
The senators wrote:
"The ability for our growers to export wheat of domestic origin to Canada has been long sought as a measure to level the playing field."
The group of senators specifically pointed to issues regarding Canada's Variety Registration System, as the letter states farmers are concerned that access to Canada's market will continue to be inhibited based on Canada's requirement that strictly limits the varieties of wheat that can be included in its premium category.
Canada calls the Variety Registration System a government oversight to ensure that health and safety requirements are met, and a regulatory tool to prevent fraud in crop sales.