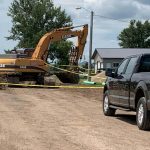 CARRINGTON, N.D. (NewsDakota.com) – An investigation is underway in Carrington  after bones were dug up near a sewer line along 14th Avenue South in Carrington on Tuesday, July 16th.
Police Chief Nathan Kruse told NewsDakota.com that the ND Bureau of Criminal Investigation has been called in to assist the police department in their investigation.
Robert Paulsen of Carrington, part of the crew who is digging in a new sewer line, was the one who found the bones…
Paulsen says after the discovery of the bones, they called local law enforcement and that the project is currently shut down.
A release from the Carrington Police Chief reports that foul play is not suspected.
"It appears that it is an old grave and foul play is not suspected.  The bones will be sent to an analyst Grand Forks to determine age and origin."