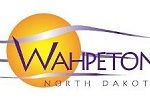 North Dakota Governor Doug Bergum has appointed Wahpeton Mayor Steve Dale to the North Dakota Environmental Review Advisory Council. The term will run until July 31, 2023.
The council is made up of 13 voting members from around the state, with professionals ranging from municipal government and state offices to those in agriculture and industry.
The council meets two times a year in Bismarck and is asked to review and making recommendations to the Department of Environmental Quality regarding rules and standards of environmental quality and any other related matters.