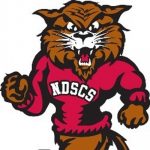 The North Dakota State College of Science Lady Wildcats stood steady at No. 18 in the NJCAA Division II volleyball poll Monday.
The Lady Wildcats, 5-2 overall, are the only MonDak Conference team in the poll.
Coffeyville is ranked first with Parkland second, Johnson County third, Highland fourth and Catawba Valley fifth.
Monday Volleyball: Tri-State def. Waubay-Summit 3-1
Century, Hillsboro-Central Valley remain No. 1 in 3A, 2A poll
Bismarck Century and Hillsboro-Central Valley were the top picks again for the Class 3A and 2A high school football polls from the North Dakota AP Sportscasters and Sportswriters Association.
Century received 15 of 16 first-place votes to outdistance West Fargo Sheyenne for the top spot in Class 3A. Fargo South came in third with Fargo Davies fourth and Fargo Shanley fifth.
Hillsboro-Central Valley picked up 10 first-place votes to edge Bismarck St. Mary's for first in the 2A poll. St. Mary's received five first-place votes with Beulah picked up one to finish third. Hazen was fourth and Kindred fifth.
Minnesota Vikings
The Minnesota Vikings will be on the road for the first time this season Sunday when they travel to Lambeau Field to take on Green Bay at noon. Both the Vikings and Packers won their season openers over the weekend.
Minnesota Twins
The Minnesota Twins begin a 3-game series with the Washington Nationals starting tonight at 6:40 p.m. and the pregame show at 6 p.m. all on KBMW.
Following the series with Washington, Minnesota will be in Cleveland for three games this weekend. The Twins hold a 5-game lead in the AL Central.
KBMW Sports Show
The KBMW Sports Show comes your way shortly after noon today on 1450 AM KBMW.
We'll talk with Breckenridge Cowgirls volleyball coach Margaret Wilson following the Cowgirls' championship at the Pelican Rapids Invitational.
A sports roundup will be around 12:43 p.m.