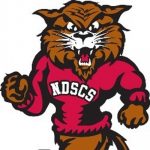 Friday's Area Football Scoreboard
Turtle Mountain 46, Wahpeton 0
Oakes 39, Milnor-North Sargent 14
Hankinson 20, Lamoure-Litchville-Marion 14
Finley-Sharon-Hope-Page 50, Richland 28
May-Port-CG 52, Tri-State 30
Wyndmere-Lidgerwood 34, Larimore 0
Breckenridge 35, Ottertail Central 8
Barnesville 58, Crookston 0
West Central 28, Pillager 22
Mahnomen-Waubun 28, Pelican Rapids 6
North Central 8, Clinton-Graceville Beardsley 0
Ada-Borup 36, Underwood 6
Saturday's College Football
NDSCS: the North Dakota State College of Science Wildcats rushed for a season high 294 yards to beat Dakota College-Bottineau 20-6 Saturday. It was NDSCS's fourth straight home win and 21st in its last 23 games. Freshman Desean Phillips ran for 149 yards while Brendan McMillian added 92 and a touchdown. NDSCS improved to 1-0 in the MCAC West and is 3-1 overall. The Wildcats play at Minnesota State-Fergus Falls on Saturday.
NDSU: The top-ranked Bison relied more on their defense than offense Saturday to beat No. 4 UC Davis 27-16 at the Fargodome. Up 20-16 with just under seven minutes to play, Michael Tutsie intercepted a UC Davis pass at the goal line. Trey Lance was 13 of 23 passing for 1256 yards while Ty Brooks ran for 104 yards. NDSU is off this next week before beginning Missouri Valley play on Oct. 5 at Illinois State.
CONCORDIA: Concordia College used a big play to end the second quarter and a huge third quarter for a 48-0 win over Augsburg. The Cobbers scored late in the second quarter and outscored the Auggies 28-0 in the third quarter.
SCORES: Minnesota State Moorhead 24, Northern State 17
Girls Swimming
The B-W swimmers took part in the 16-team Border Battle at West Fargo on Saturday. For the locals, Alaina LaJesse and Jayden Cherry picked up personal bests in the 50 freestyle as did Chloe Rubish in the 100 free and Sydni Roberts in the 500 free.
Minnesota Twins
Miguel Sano hit two home runs and Nelson Cruz hit his 400th homer of his career to lift the Twins to a 12-8 win over the Kansas City Royals on the final regular-season home game of the season on Sunday. The Twins reduced their magic number to 3 to clinch the AL Central. Minnesota now goes on the road for the final week of the regular season, starting with three games in Detroit starting Tuesday at 5:40 p.m. and the pregame show at 5 p.m. on KBMW.
Minnesota Vikings
Dalvin Cook ran for 110 yards and a touchdown while Alexander Mattinson added 58 yards and a score as the Vikings beat the Oakland Raiders 34-14 Sunday. Minnesota quarterback Kirk Cousins was 15 of 21 for 174 yards and one touchdown passing to Adam Thielen while the Vikings defense limited Oakland to 302 total yards. The Vikings, 2-1 on the season, play at Chicago on Sunday.
Broadcast Schedule
Friday: Barnesville at Breckenridge, 7 p.m. (92.7 FM); Hillsboro-Central Central Valley at Wahpeton, 7 p.m. (1450 AM)
Saturday: NDSCS at MSCTC Fergus Falls, 1:30 p.m. (1450 AM)