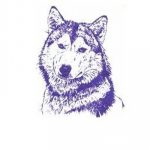 The Wahpeton Lady Huskies came up with its best finish of the season Monday to earn a spot at next week's N.D. Class A State Golf Meet in Wahpeton.
The Lady Huskies finished fifth Monday at the Class A East Region tournament, also at the Bois de Sioux Golf Course. Wahpeton finished with a 386 team total, six shots better than West Fargo and Grand Forks Central, who tied for the sixth and final state spot. West Fargo advanced on a tiebreaker. Fargo Shanley tied with Grand Forks Red River for the team title at 342 but was the winner in a tiebreaker.
Wahpeton's Anaka Lysne shot an 85 to finish fourth in the individual race. That was six shots off the lead of Lily Bredemeier of GF Red River and Greta McArthur of Shanley. Madison Bohn added an 89 to just miss out of the top 10 overall.
Other scores for Wahpeton had McKena Koolmo and Halie Miller with 106s, Alayna Gilsrud 109 and Lily Anderson 115.
The state tournament will be Monday and Tuesday at the Boise de Sioux Golf Course.
Lady Wildcats rollover Bismarck College
The North Dakota State College of Science Lady Wildcats pulled into a tie for first place in the Mon-Dak Conference with a 3-0 sweep of Bismarck State College Monday at the Activities Center. NDSCS improved to 4-1 in conference play and 12-4 overall. NDSCS won 25-17, 25-23, 25-21. The Lady 'Cats had five players record at least five kills, led by Lily Pyle with 12 and Gabby Hahn with eight. NDSCS also recorded 73 digs in the 3 sets, with Katie Krieger totaling 27, Miah Gessell and Hahn 12 and Lexi Hansch 11. Hansch also added 22 assists. NDSCS is on the road Wednesday, playing at the Mayville State Comets.
Tuesday's Local Schedule
Volleyball: Breckenridge at Henning, 7:30 p.m. Tonight's match in Henning is a Pink Out in support of a Sebeka volleyball coach who was recently diagnosed with cancer. Henning will be taking free-will offerings with proceeds going toward the coach's medical bills; Wahpeton at GF Central, 7 p.m.; Hankinson at Lisbon, 7 p.m.; Kindred at Tri-State at Rosholt, 7 p.m.; Milnor-North Sargent at Wyndmere-Lidgerwood, 7 p.m.
Boys Tennis: Wahpeton at Fargo South, 4 p.m.
Twins begin final week of regular season
The Minnesota Twins begin the final week of the regular season tonight in Detroit for a 3-game series with the Tigers. Minnesota and Cleveland were both off Monday, leaving the Twins with a four-game lead in the AL Central with six games to play and a Magic Number of 3. Jake Odorizzi starts for the Twins tonight looking for his 15th win of the season. The two teams play again tomorrow night at 5:40 p.m. and conclude the series Thursday at 12:10 p.m. Minnesota then plays three games at Kansas City to close out the regular season. All three games against the Tigers can be heard on 1450 AM KBMW.
Friday's Broadcast Schedule
Friday: Barnesville at Breckenridge, 7 p.m. (92.7 FM); Hillsboro-Central Central Valley at Wahpeton, 7 p.m. (1450 AM)
Saturday: NDSCS at MSCTC Fergus Falls, 1:30 p.m. (1450 AM)