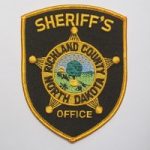 The Richland County Sheriff's Office responded Saturday to an injury crash involving two vehicle on I-29 on Saturday.
The accident happened near milepost 36 in a construction zone.
A 2003 GMC Yukon driven by a 42-year-old female from Sisseton was northbound on I-29 along with an 18-year-old female and 13-year-old male passenger.
A 2018 Dodge Charger driven by a North Dakota High Patrol Trooper was traveling southbound. The officer was attempting a U-turn to attempt to stop a car going north when both vehicles collided.
All three in the GM Yukon were transported by ambulance to a Fargo hospital with non life-threatening injuries.
The N.D. Highway Patrol Trooper was transported by ambulance to St. Francis Hospital in Breckenridge with non life-threatening injuries.
All four involved in the accident were released from the hospital by Sunday.
Airbags were deployed in both vehicles and all parties were wearing seat belts.
The crash remains under investigation with the Richland County Sheriff's Office.