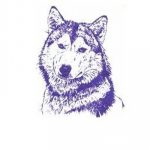 Wahpeton's Anaka Lysne shot an 86 Monday and teammate Madison Bohn an 88 as both Lady Huskies are inside the top 20 after the first day of the N.D. Class A state golf tournament at the Bois de Sioux Golf Course.
Wahpeton is eighth in the team standings after the first round with 384 team score, the team's best single round of the season.
Lysne's round included a 45 on the front nine holes and a 41 on the back nine for a tie for 12th place. Lysne had one birdie – on the par-5 16th hole – and six pars on the round. Bohn is tied for 17th after an 88 with 44s on each nine holes. Bohn had eight pars in her round.
Also for Wahpeton, McKena Koolmo is 59th at 103, Alayna Gilsrud and Lily Anderson are tied for 73rd at 109 and Haile Miller is 82nd at 124. For Koolmo, Gilsrud and Anderson, it was their lowest round of the season at the Boise de Sioux golf course.
Bismarck Century leads the team race at 328, eight shots better than Williston, who was second at 336. Fargo Shanley (342), Minot (355) and Grand Forks Red River (367) round out the top five.
Wahpeton starts today's final 15 shots out of seventh place and leads Bismarck by one shot and Jamestown by two for the eighth spot.
The final round begins at 9 a.m. today at the Bois de Sioux.
Cross country
The Breckenridge-Wahpeton boys cross country team finished third and the girls fifth during the Dale Skallerud Memorial in Hawley Monday. For the Cowboys, Adian Ruddy placed third in a time of 18 minutes, 44 seconds. Francisco Perez Jr. was 10th in 19:49, Gus Lasch 18th in 20:35.17, Jayden Wiertzema 23rd in 20:55 and Isaac Getz 26th in 21:05.
The B-W girls were paced by Rachel Gowin in ninth place in 22:20. Hailee Bruce was 19th in 24:23, Ashlyn Haire 20th in 24:28, Grace Conzemius 24th in 25:04 and Em Lisby 25th in 26:23.
Tuesday's Local Schedule
GIRLS GOLF: N.D. Class A state tournament at Bois de Sioux Golf Course, 9 a.m.
VOLLEYBALL: Wadena-Deer Creek at Breckenridge, 7:30 p.m.; Richland at Fargo Oak Grove, 7 p.m.; Tri-State at Milnor-North Sargent, 7 p.m.; Wyndmere-Lidgerwood at Hankinson, 7 p.m.
High school football polls
Bismarck Century and Hillsboro-Central Valley retained the top spots this week in the Class 3A and 2A football from the N.D. AP Sportscasters and Sportswriters Association. Century, one of two remaining undefeated teams in Class 3A, received 16 of the 17 first-place votes to top the poll. West Fargo Sheyenne picked up the other top vote and was second, followed by Fargo Davies third, Fargo Shanley fourth and Mandan fifth and new to the poll this week.
In Class 2A, Hillsboro-Central Valley was the unanimous pick for the top spot. Beulah was second, Bismarck St. Mary's third, Devils Lake fourth and Valley City joined the poll at No. 5 for the first time this season.
Minnesota Twins
Game times have been set for the first two games of the American League Division Series between the Minnesota Twins and N.Y. Yankees. Friday's game one will start at 6 p.m. with a 5 p.m. pregame show on KBMW. Saturday's second game of the series starts at 4 p.m. Games three and four will be back in Minnesota on Monday and Tuesday.
Noon Sports Show
The KBMW Sports Report comes your way during the noon hour today. Scott Nulph will be talking walleye fishing with Travis Owens as he and his brother Jake won a regional walleye title this fall, plus a complete roundup from Monday. That all comes your way around 12:10 p.m. today (Tuesday).