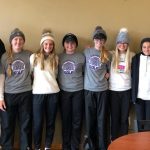 Wahpeton's Anaka Lysne followed an 86 in her opening round of the N.D. Class A state golf tournament with another 86 on Tuesday to finish in a tie for 12th place at the Bois de Sioux Golf Course.
Wahpeton finished ninth as a team with a two-round score of 778. Bismarck Century won the team title at 661 with Willison second at 680 and Fargo Shanley third at 685.
"The experience these young golfers gained over the course of postseason play will hopefully encourage them to play more golf in the offseason and be ready to compete in the EDC at the start of the season," Lady Huskies coach Jeff Ralph said. "They proved that they belong in the state tournament and represented themselves, our school and community very well.
All golfers started the final round on the back nine holes and Lysne shot a 42 before making the turn and shooting 44 on the front nine. Lysne missed earning All-State honors by two strokes.
"Anaka never seemed to really get anything going today, but she did manage to avoid a high score that could have derailed her round," Ralph said.
Also for Wahpeton, Madison Bohn shot a 93 Tuesday for a 181 total and a tie for 25th place. McKena Koolmo finished at 208 with a 106 on the final day, Alayna Gilsrud shot a 110 to wind up at 219, Lily Anderson totaled 220 with a 112 and Halle Miller 231 after a 109, 14 shots better than her first-round score.
"Madison found out over the course of the last week that she has the game to be one of the best golfers in the EDC and state," Ralph said. "Her finish in the top 25 was a result of all the hard work she put into her game over the summer and throughout the season."
Bismarck Century's Hannah Herbel shot a 78 Tuesday to total 156 and win medalist honors by two strokes over Carrie Carmichael of Williston, who also shot a 78 for a 158 total. Carmichael's sister, Kaleigh, was third overall at 159.
Team Scores
Bismarck Century 661; 2. Williston 680; 3. Fargo Shanley 685; 4. Minot 701; 5. Grand Forks Red River 712; 6. Fargo Davies 731; 7. Bismarck St. Mary's 737; 8. Jamestown 763; 9. Wahpeton 778; 10. Bismarck 780; 11. Fargo South 788; 12. West Fargo 825.
VOLLEYBALL SCOREBOARD
Wadena-Deer Creek def. Breckenridge 3-1 (25-17, 22-25, 25-15, 29-27)
Fargo Oak Grove def. Richland 3-1
Milnor-North Sargent def. Tri-State 3-2
Hankinson def. Wyndmere-Lidgerwood 3-0
SECTION 6A STANDINGS
Breckenridge slipped to fourth in the latest Minnesota Class A Section 6A QRF standings after its loss to Barnesville Friday night. Underwood continues to hold the top spot in the section with a rating of 44.3. Walker-Hackensack-Akeley is second at 34.9, Otter Tail Central third at 30.0 and the Cowboys fourth at 29.6. New York Mills (26.6), Pine River-Backus (24.4), Lake Park-Audubon (12.0) and Hillcrest Lutheran Academy (3.4) round out the rest of the section.
WEDNESDAY'S LOCAL SCHEDULE
Volleyball: NDSCS at Lake Region College, 7 p.m.
MINNESOTA TWINS
The Minnesota Twins continued preparations for their American League Division Series against the New York Yankees on Tuesday.
The Twins have 12-to-1 odds to win the World Series according to Westgate Sports Book while the Yankees are 4-to-1. But a Major League best 55-26 road record and a 14-13 mark against teams in the AL playoffs give plenty of confidence heading into Game 1 Friday at 6 p.m.
We'll have Game 1 on KBMW starting with the pregame show at 5 p.m. Game 2 will be Saturday at 4 p.m. with Games 3 and 4 in Minneapolis Monday and Tuesday.
MINNESOTA WILD
The Minnesota Wild begin the regular season on Thursday with a road game at Nashville at 7 p.m.
The Wild comes off a disappointing 2018-19 season that saw the team go 37-36-9 and miss the playoffs for the first time since 2012 and hired Bruce Boudreau as the team's coach in the offseason.
Close
The KBMW Sports Report comes your way during the noon hour today with a complete roundup of Tuesday's action.