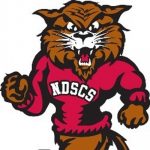 The 19th-ranked North Dakota State College of Science Lady Wildcat volleyball team held off Lake Region State College 3-1 on Wednesday.
NDSCS won 25-19, 25-14, 23-25, 26-24 to improve to 14-4 overall and 5-1 in the MonDak Conference.
Gabby Hahn totaled 20 kills and 20 digs for the Lady Wildcats Wednesday while Lily Pyle added nine kills.
Katie Krueger finished with 14 digs and Miah Gessell 12. NDSCS had 21 total blocks in the game, including seven from Ally Gruber.
THURSDAY'S LOCAL SCHEDULE
VOLLEYBALL: Fargo South at Wahpeton, 7 p.m.; Perham at Breckenridge, 7:30 p.m.; Northern Cass at Richland, 7:30 p.m.
HIGH SCHOOL FOOTBALL
New Rockford-Sheyenne earned 18 of the 19 first-place votes to top the Class 9-man poll this week by the N.D. AP Sportswriters and Sportscasters.
Cavalier picked up the other first-place vote and was second with Finley Sharon-Hope Page third, Central McLean fourth and Linton-HMB fifth. All five teams are undefeated.
In Class A, Lisbon jumped to third this week with its fifth-straight win. Langdon-Edmore-Munich was the unanimous choice for the top spot with Velva second, Shiloh Christian fourth and Bowman County fifth. Oakes received votes in the poll.
MINNESOTA TWINS
With one more day to go before the American League Division Series between the Minnesota Twins and N.Y. Yankees starts in New York, the injury news is upbeat for the Twins.
Max Kepler, Marwin Gonzalez and Ehire Adrianza all said they would be able to play in Friday's Game 1.
Twins manager Rocco Baldelli also said he's optimistic that Luis Arraez would be available during the series the as well. Kepler has missed much of September with a rhomboid strain, Gonzalez sat out the Twins' series with Kansas City with an oblique injury and Adrianza has also missed time with the same injury.
Arraez is continuing to rehab an injured ankle suffered against the Royals.
The Twins have until 9 a.m. Friday to make a final decision on their ALDS roster.
MINNESOTA VIKINGS
Minnesota receiver Stefon Diggs missed Wednesday's practice for the team in what was called a non-football related issue.
Through four games this season Diggs has 13 receptions for 209 yards and one touchdown. Last year through four games Diggs caught 27 balls for 311 yards and two TDs. The Vikings did not comment on Diggs' status after Wednesday's practice.
Minnesota plays at the N.Y. Giants at noon on Sunday.
KBMW BROADCAST SCHEDULE
Friday: Hawley at Breckenridge, 6:30 p.m. pregame on B92.7 FM; Minnesota Twins at N.Y. Yankees, 5 p.m. pregame on KBMW
Saturday: NDSU at Illinois State, 11:30 a.m. pregame on KBMW; NDSCS at Northland Community College, 1 p.m. pregame on B92.7 FM