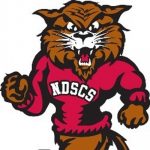 FRIDAY'S LOCAL SCOREBOARD
FOOTBALL
Breckenridge 41, Hawley 21
Valley City 36, Wahpeton 8
Maple Valley-Enderlin 26, Hankinson 24
Tri-State 26, LaMoure-Litchville-Marion 24
Finley-Sharon-Hope-Page 30, Wyndmere-Lidgerwood 18
Mayville-Portland-CG 45, Richland 8
VOLLEYBALL
The 19th-ranked North Dakota State College of Science Lady Wildcats beat M-State Fergus Falls 3-0 on Friday at home.
The Lady 'Cats won 25-23, 25-18, 25-20.
Gabby Hahn led the offense with 14 kills while Ally Gruber and Lily Pyle added eight and Miah Gessell six. Katie Krieger led the defense with 19 digs and Hahn added 11.
NDSCS, now 15-4 overall, has a busy week this week with six matches.
The Lady Wildcats host Miles Community College at 7 p.m. on Tuesday and Dawson Community College at 6 p.m. on Wednesday. NDSCS then plays at the Triton Invitational in Fort Dodge, Iowa, Friday and Saturday, play four matches over the two days.
SATURDAY'S LOCAL SCOREBOARD
VOLLEYBALL
Fargo Shanley def. Wahpeton 3-0
COLLEGE FOOTBALL
NDSCS 27, NCTC 21 (2OT)
DeSean Phillips scored in double overtime Saturday night as the NDSCS Wildcats beat Northland Community and Technical College 27-21 to take over first place in the MCAC West Division.
The game was played at East Grand Forks High School after it was determined Northland's field was unplayable.
NDSCS, now 5-1 overall and 3-0 in the division, led 21-7 after three quarters before NCTC tied it up with two late touchdown. Neither team scored in the first overtime and the Wildcats' defense stopped Northland on downs to start the second OT.
With needing any kind of score to end the game, the Wildcats gave the ball four straight times to Phillips, who ended the game on an eight-yard touchdown run while accounting for all 25 yards.
NDSCS will host Minnesota West Technical and Community College at 1:30 p.m. Sunday for Homecoming. A win by the Wildcats would give the team the west division title and ensure a home playoff game in the first round of the MCAC playoffs.
NDSU 37, ILLINOIS STATE 3
Trey Lance threw for 189 yards and three touchdowns and Ty Brooks ran for 106 yards and a score as the top-ranked NDSU Bison dominated Illinois State 37-3 Saturday in Normal, Ill., to start Missouri Valley Conference play. On defense, the Bison held the Redbirds to 200 total yards. The Bison return home to host Northern Iowa at 1 p.m. on Saturday.
UND 38, UC DAVIS 36
North Dakota held off UC Davis 38-36 Saturday in Grand Forks.
Nate Ketteringham was 29 of 40 passing for 279 yards and three touchdowns and the Fighting Hawks ran for 177 yards and two scores.
UC Davis QB Carson Crawford threw for 357 yards and four touchdowns, but UND also picked off three passes on the day.
UND is on the road Saturday to play at Idaho State at 2 p.m.
MINNESOTA 40, ILLINOIS 17
The Minnesota Gophers ran all over Illinois Saturday, rushing for 322 yards in a 40-17 win at TCF Bank Stadium.
Rodney Smith ran for 211 yards and Shannon Brooks 110 as Minnesota won for the fifth time to start the season, the first time a Gophers football team has been 5-0 since 1986.
COLLEGE FOOTBALL ROUNDUP: Also Saturday, Winona State beat Minnesota State-Moorhead 28-26, St. Thomas topped Concordia 51-6, Dickinson State rolled over Mayville State 79-14, Waldorf beat Valley City State 37-17 and Jamestown College edged Concordia, Neb., 13-10 in four overtimes.
MINNESOTA TWINS
A new team met with old results at the Minnesota Twins dropped the first two games of the American League Division Series to the N.Y. Yankees Friday and Saturday in New York.
The Twins have now lost 15 straight playoff games with 12 of those againsT New York. The Yankees won 10-4 on Friday and 8-2 on Saturday.
Games 3 and 4, if necessary, switch to Target Field this week. Tonight's game starts at 7:40 p.m. as all four division series play. Game 4 would start at 7 p.m. if the Twins win tonight.
MINNESOTA VIKINGS
Kirk Cousins threw for 306 yards and two touchdowns and Dalvin Cook continued his hot start to the season with 132 yards as the Vikings topped the N.Y. Giants 28-10 Sunday in New York.
The Vikings improved to 3-2 with the team's first road win of the season. Cousins completed 22 of 27 passes in his best game of the season.
Adam Thielen caught seven passes for 130 yards and Cooks added six receptions for 86 yards. Disgruntled wide receiver Stephon Diggs had three catches for 44 yards on four targets with a long of 20 yards.
The Vikings announced early Sunday that Diggs had been fined $200,000 for missing Wednesday's practice.
The Vikings are home next Sunday to play the Philadelphia Eagles at noon.
MINNESOTA WILD
The Minnesota Wild lost 4-2 at Colorado Saturday to drop to 0-2 on the season. Minnesota will play its third road game to start to the 2019-20 season at Winnipeg on Thursday before hosting Pittsburgh Saturday at 7 p.m. on its home opener.
LOCAL BROADCAST SCHEDULE
Friday: Kindred at Wahpeton, 7 p.m.
Saturday: Northern Iowa at NDSU, 1 p.m. (KBMW); Minnesota West CTC at NDSCS, 1:30 p.m. (B92.7 FM)