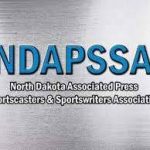 MONDAY LOCAL SCOREBOARD
VOLLEYBALL: Tri-State def. Wilmot, S.D., 3-0
TUESDAY LOCAL SCHEDULE
VOLLEYBALL: Miles Community College at NDSCS, 7 p.m.; Breckenridge at Underwood, 7:30 p.m.; Hankinson at Tri-State, 7 p.m.; Enderlin at Wyndmere-Lidgerwood, 7 p.m.; Kindred at Richland, 7 p.m.; Milnor-North Sargent at Central Cass, 7 p.m.
CROSS COUNTRY: Breckenridge-Wahpeton at HOL Meet, Thief River Falls, 4:30 p.m.
GIRLS SWIMMING: Wahpeton at Grand Forks Triangular, 5 p.m.
N.D. HIGH SCHOOL FOOTBALL POLLS
Bismarck Century and Hillsboro-Central Valley were unanimous picks Monday in the N.D. AP Sportscaster and Sportswriter Association football polls.
Century leads the Class 3A poll, followed by Fargo Davies, Fargo Shanley, West Fargo Sheyenne and Fargo South.
Hillsboro-Central Valley is No. 1 in Class 2A, with Beulah second, Devils Lake third, Bismarck St. Mary's fourth despite a 2-3 record and Valley City fourth.
COLLEGE BASKETBALL
North Dakota State's men's basketball team has been chosen to win the Summit League by a vote of league's nine coaches, sports information directors and select media members.
The Bison, who won the Summit championship in March, received 23 of the 34 first-place votes. South Dakota was second for the men with Oral Roberts third, Omaha fourth and South Dakota State fifth. North Dakota was picked eighth.
Vinnie Shahid was named to the all-league first team.
South Dakota was the choice on the women's side with South Dakota State second, Denver third, Oral Roberts fourth and Western Illinois fifth. North Dakota was picked sixth and NDSU seventh.
Former Wahpeton standout Tylee Irwin was one of five players picked for the Summit League preseason second team after averaging 7.5 points and 3.7 rebounds last season as a sophomore for the Jackrabbits.
MINNESOTA TWINS
The best regular season in Minnesota Twins history wasn't enough to end a Major League Baseball run of futility as the Twins lost 5-1 to the New York Yankees Monday at Target Field.
The Yankees swept the best-of-5 series 3-0 and will advance to the AL Championship Series.
The Twins, who won a club record 101 wins during the regular season and set a MLB record for home runs in a single season, have now lost a record 16 straight playoff games with 13 of those coming to the Yankees. Minnesota left 11 men on base Monday and were 1 of 10 batting with runners in scoring position.
Eddie Rosario went 3-for-4 and hit a home run in the eighth inning for the Twins' lone run
.
LOCAL BROADCAST SCHEDULE
Friday: TBD
Saturday: Northern Iowa at NDSU, 1 p.m. (KBMW); Minnesota West CTC at NDSCS, 1:30 p.m. (B92.7 FM)