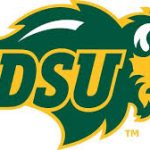 North Dakota State led Kansas State by a point at halftime in the season opener for both basketball Tuesday in Manhattan, Kansas, before the Wildcats outscored the Bison 46-32 in the second half for a 67-54 win.
The Bison trailed 38-36 with just over 12 minutes left in the game before the Wildcats slowly pulled away. KSU led by eight with 11 minutes to go and pushed the lead to double digits with 8:49 to play.
Junior forward Rocky Kreuser led the Bison with 14 points while senior guard Tyson Ward added 12 and seven rebounds.
Carter Diarra paced Kansas State with 23 points.
NDSU will host Mayville State on Thursday in its home opener.
HIGH SCHOOL FOOTBALL
The pairings are set for semifinal play in North Dakota and quarterfinal play in Minnesota in high school football playoffs.
In North Dakota, the Class 3A semifinals have Mandan at Bismarck Century and West Fargo at West Fargo Sheyenne. In Class 2A, Valley City plays at Beulah and Bismarck St. Mary's at Hillsboro-Central Valley, in 1A Bishop Ryan is at Velva and Lisbon at Langdon-Edmore-Munich and in 9-man, Linton-HMB plays at Cavalier and Kidder County is at Finley-Sharon-Hope-Page.
In Minnesota, the Class A quarterfinals have Underwood vs. Ada-Borup at 3 p.m. Saturday in Moorhead, BOLD vs. Deer River, Gibbon-Fairfax-Winthrop vs. Browerville-Eagle Valley and Blooming Prairie vs. Springfield.
Other area Minnesota teams in the playoffs include Hancock vs. Renville County West in the 9-man playoffs, Barnesville vs. Osakis in the Class 2A quarterfinals Saturday at noon in Moorhead and Moorhead vs. Elk River in Monticello at noon on Saturday in the 5A quarterfinals.
COLLEGE FOOTBALL
Undefeated and 13th-ranked Minnesota agreed with coach P.J. Fleck on a contract extension through the 2026 season, including an annual raise of more than 25 percent from his current salary and an eight-figure buyout for the first year to cover the university if he were to leave.
Fleck signed his new deal on Tuesday. The contract, which is pending final approval by the Board of Regents, will pay Fleck $4.6 million in 2020 with a $50,000 raise scheduled for each season thereafter.
Fleck is 20-13 at Minnesota, including a 10-game winning streak that started last season.
HIGH SCHOOL VOLLEYBALL
Pairing for the N.D. Class B Region 1 volleyball tournament were announced Tuesday.
Fargo Oak Grove is the overall No. 1 seed with Richland second and Northern Cass third.
First-round matches on Friday have No. 13 seed Sargent Central at No. 4 Hankinson, No. 12 Tri-State at No. 5 Kindred, No. 10 Wyndmere-Lidgerwood at No. 7 Milnor-North Sargent, No. 11 Maple Valley at No. 6 Central Cass and No. 9 Enderlin at No. 8 Lisbon.
All matches start at 7 p.m. The winners advance to Monday's quarterfinals at the Fargo Civic Center, with the semifinals Tuesday and the championship match on Thursday.
TUESDAY'S LOCAL RESULT
VOLLEYBALL:
West Fargo Sheyenne def. Wahpeton 3-0
LOCAL BROADCAST SCHEDULE
SATURDAY: Western Illinois at NDSU football, 2 p.m. pregame (KBMW)