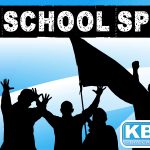 High School football plays have reached the semifinal stage in North Dakota and quarterfinal play in Minnesota.
In North Dakota, the Class 3A semifinals have Mandan at Bismarck Century and West Fargo at West Fargo Sheyenne. In Class 2A, Valley City plays at Beulah and Bismarck St. Mary's at Hillsboro-Central Valley, in 1A Bishop Ryan is at Velva and Lisbon at Langdon-Edmore-Munich and in 9-man, Linton-HMB plays at Cavalier and Kidder County is at Finley-Sharon-Hope-Page.
In Minnesota, the Class A quarterfinals have Underwood vs. Ada-Borup at 3 p.m. Saturday in Moorhead, BOLD vs. Deer River, Gibbon-Fairfax-Winthrop vs. Browerville-Eagle Valley and Blooming Prairie vs. Springfield.
Other area Minnesota teams in the playoffs include Hancock vs. Renville County West in the 9-man playoffs, Barnesville vs. Osakis in the Class 2A quarterfinals Saturday at noon in Moorhead and Moorhead vs. Elk River in Monticello at noon on Saturday in the 5A quarterfinals.
HIGH SCHOOL VOLLEYBALL
The N.D. Class A East Region volleyball tournament begins Friday with three play-in matches.
No. 11 seed Wahpeton plays at No. 6 West Fargo at 5 p.m., No. 7 Fargo North hosts No. 10 Grand Forks Central and No. 8 Fargo South hosts No. 9 Devils Lake.
Those three winners advance to the quarterfinals on Tuesday at home sites. Fargo Davies is the overall No. 1 seed with West Fargo Sheyenne second and Fargo Shanley third.
Semifinals and elimination matches will be Nov. 15 at Fargo South with state play-in matches and the championship match set for Nov. 16.
The N.D. Class B Region 1 volleyball tournament gets underway Friday at home sites across the region.
Fargo Oak Grove is the overall No. 1 seed with Richland second and Northern Cass third and receive byes into the quarterfinal round.
First-round matches Friday have No. 13 seed Sargent Central at No. 4 Hankinson, No. 12 Tri-State at No. 5 Kindred, No. 10 Wyndmere-Lidgerwood at No. 7 Milnor-North Sargent, No. 11 Maple Valley at No. 6 Central Cass and No. 9 Enderlin at No. 8 Lisbon.
All matches start at 7 p.m. The winners advance to Monday's quarterfinals at the Fargo Civic Center, with the semifinals Tuesday and the championship match on Thursday.
Minnesota begins its state tournament today at Xcel Energy Center in St. Paul. Area teams in the tournament including Henning playing Waterville-Elysian-Morristown at 3 p.m. in a Class A quarterfinal and Moorhead played Minnetonka this morning in a Class 3A quarterfinal.
The tournament runs through Saturday with the Class A title match at 1 p.m., the 2A championship at 3 p.m. and the 3A championship at 5 p.m.
COLLEGE FOOTBALL
Top-ranked NDSU earned the top spot in the FCS Championship Committee's top 10 rankings, released Wednesday.
NDSU, undefeated at 9-0, was followed by James Madison, Weber State, South Dakota State and Cal State Sacramento in the top five. Northern Iowa, Central Arkansas, Montana, Furman and New Hampshire fill out the top 10.
Wednesday marks the committee's only reveal of its rankings before the selection show on Nov. 24.
COLLEGE BASKETBALL
NDSU opens its home schedule while North Dakota begins its 2019-20 season with home games tonight.
The Bison host Mayville State at 7 p.m. at the Scheels Center while the Fighting Hawks host Crown College at 7 p.m.
MINNESOTA VIKINGS
The Minnesota Vikings have claimed safety Andrew Sendejo off waivers from Philadelphia, bringing back a longtime piece of their secondary.
The move was made Wednesday, the day after Sendejo was released by the Eagles, for whom he played in all nine games this season. He had an interception against the Vikings on Oct. 13.
MINNESOTA TIMBERWOLVES
The Memphis Grizzlies outscored the Minnesota Timberwolves 36-24 in the fourth quarter to pull away for a 137-121 win in Memphis. Andrew Wiggins led the T-Wolves with 30 points while Karl Anthony Towns added 25 points and 13 rebounds. The Timberwolves fell to 5-3 on the season.
FRIDAY'S LOCAL SCHEDULE
VOLLEYBALL:
Wahpeton at West Fargo, East Region play-in game, 5 p.m.
LOCAL BROADCAST SCHEDULE
SATURDAY: Western Illinois at NDSU football, 2 p.m. pregame (KBMW)