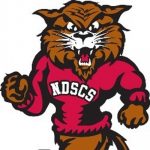 The North Dakota State College of Science Lady Wildcats extended their winning streak to eight games with two wins over the weekend at the Lake Region Classic in Devils Lake.
On Saturday, the NDSCS women beat Turtle Mountain Community College 101-46 and topped Sheridan College 75-59 on Sunday.
The NDSCS men went 1-1, dominating Turtle Mountain CC 112-39 before losing 100-94 to Sheridan College.
The Lady Wildcats were led against Turtle Mountain by Emma Ogitchida and Monique Wooten with 12 points while Kate Carlson added 11 Eleven Lady 'Cats scored at least six points in the game.
On Sunday, the Lady 'Cats built a 45-22 lead at halftime and were never threatened in the second half. Justyna Butler scored 15 points and added a game-high nine assists while Zaraya March and Wooten each added 11 point
The NDSCS women are now 9-1 on the season.
The Wildcats had six players score in double figures, led by Noble Cooper and Rayquan Moore with 13 each in Saturday's win. Mohamed Kone and Diang Gatluak scored 12 with Duoth Gach, Damein Gordon and Moses Suleiman scoring 11 each.
On Sunday, the loss to Sheridan snapped a five-game winning streak. NDSCS is now 6-2 on the season.
Cooper led all scorers with 28 points and had eight assists while Gach scored 17 points and Khari Broadway and Moore 12 each.
FIGHTING HAWKS FALL TO GOPHERS
ANorth Dakota fell to 1-4 in the early going with a 79-56 loss to Minnesota at Williams Arena on Sunday. Marlon Stewart paced the Fighting Hawks with 14 points.
UND will host North Central at 8:30 p.m. Tuesday before playing in the FGCU Classic in Fort Myers, Fla., Friday through Sunday. UND plays host Florida Gulf Coast at 6 p.m. Friday, Georgia Southern at 3:30 p.m. Saturday and Campbell at 11 a.m. on Sunday
BISON DROP HOME GAME TO UTAH VALLEY
Utah Valley jumped out to a big early lead and the NDSU Bison couldn't recover in a 68-62 loss Saturday in Fargo.
Utah Valley led by 15 with 10 minutes to play before the Bison quickly cut the lead to three with just over five minutes to play. The Bison got within three three more times in the game, but never closer.
Vinnie Shahid led the way for NDSU with 23 points with Tyson Ward scoring 16 to go with eight rebounds.
NDSU, now 4-3, is at Idaho on Tuesday for a 9 p.m. game.
COLLEGE FOOTBALL
NDSU beat Southern Illinois 21-7 Saturday to end the regular season 12-0 and win its 33rd consecutive game, equaling its own record set from 2012-14. Tied 7-7 at the half, the Bison scored on its first two drives of the second half to pull away.
North Dakota ended its regular season with a 36-18 win over Southern Utah on Saturday. The Fighting Hawks are 7-4 and earned a spot in the FCS playoffs, where they will go on the road to play at Nicholls State at 3 p.m. on Saturday.
On Sunday, the Bison were tabbed as the overall No. 1 seed for the FCS playoffs and received a first-round bye. The winner of the UND-Nicholls State game will play NDSU at the Fargodome on Dec. 7.
The other top-four seeds were James Madison No. 2, Weber State No. 3 and Sacramento State No. 4.
South Dakota State received the No. 6 overall seed. Also making the playoffs from the Missouri Valley Conference were Illinois State and Northern Iowa. UNI will host San Diego on Saturday while Illinois State plays at Southeast Missouri State.
The 10th ranked Minnesota Gophers recovered from last week's loss at Iowa to beat Northwestern 38-22 Saturday in Evanston, Ill. The Gophers improved to 10-1 on the season and 7-1 in Big 10 play.
The Gophers passed for 212 yards and ran for 211 in the win.
Minnesota will host No. 12 Wisconsin on Saturday at TCF Bank Stadium with the winner winning the Big 10 West Championship and a spot in the Big 10 championship game on Dec. 7.
HIGH SCHOOL VOLLEYBALL
North Dakota crowned its high school volleyball champions on Saturday in the Fargodome.
In the Class A championship, Fargo Davies beat Bismarck Century, 3-1
In the Class B championship, Langdon-Edmore-Munich beat top-seeded Oakes 3-1.
In consolation play in Class A;
3rd place: West Fargo Sheyenne def. Fargo Shanley, 3-2
5th place: Jamestown def. Valley City, 3-2
7th place: Mandan def. Bismarck, 3-2
In consolation play in Class B:
3rd place: Oak Grove def. Our Redeemer's, 3-2
5th place: Thompson def. Flasher, 3-0
7th place: Dickinson Trinity def. Stanley, 3-0
HIGH SCHOOL FOOTBALL
Five Breckenridge Cowboys were named all-district by a vote of the district coaches.
Jack Aigner, Daniel Erlandson, Gavin Johnson, Jared Aamold and Connor Twidwell were chosen by the coaches. Tyson Piechowski, Jonah Christensen and Jase Jensen were named all-district honorable mention with Erlandson, Johnson, Twidwell, Carson Hought and Adam Ohm earning all-district academic team honors.
The team awards were: MVP-Jack Aigner; Offensive MVP-Jacob Vizenor; MVP O-line-Jared Aamold; MVP-Offensive back-Chris Nieto; Jim Back MVP Defense-Connor Twidwell; MVP d-line-Gavin Johnson; MVP d-back-Carson Hought; MVP special teams-Jacob Vizenor.
The Minnesota state high school football championships are this weekend at U.S. Bank Stadium in Minneapolis.
Games on Friday are:
1A: BOLD vs. Blooming Prairie, 10 a.m.
2A: Minneapolis North vs. Caledonia, 1 p.m. Caledonia topped Barnesville 43-12 in a semifinal game on Friday.
4A: SMB vs. Rocori, 4 p.m.
6A: Champlin Park vs. Wayzata, 7 p.m.
Games on Saturday are:
9-Man: Hancock vs. Mountain Lake Area, 10 a.m.
3A: Dassel-Cokato vs. Pierz, 1 p.m.
5A: Chaska vs. St. Thomas Academy, 4 p.m.
HIGH SCHOOL HOCKEY
The B-W Blades started the season with a 3-1 win at Aberdeen on Saturday.
Jase Jensen and Jimmy Finkral had the goals for B-W while Jared Aamold made 18 saves to the get the win in goal.
The B-W Blades girls U19 hockey team lost 6-1 to Fargo on Saturday. Rylie Finkral scored the team's lone goal while goalie Falcon Phelps made 30 saves in the loss.
The Blades then hosted Bismarck on Sunday and won 6-5. Ivy Osak led the team with two goals and an assist with Addison Truesdell, Alison Hoerer and Reagan Wohlers scoring a goal each. Phelps got the win in goal with 25 saves.
LOCAL SCHEDULE
TUESDAY
GIRLS BASKETBALL: Dilworth-Glyndon-Felton at Breckenridge, 7:30 p.m.
HOCKEY: B-W Blades at Wadena-Deer Creek, 7 p.m.
WRESTLING: West Fargo at Wahpeton, 7 p.m.
WEDNESDAY
MEN'S BASKETBALL: NDSCS at Dakota County Technical College, 7 p.m.
FRIDAY
WOMEN'S BASKETBALL: NDSCS vs. Jefferson College at Iowa Western Thanksgiving Classic, 5 p.m.
SATURDAY
WOMEN'S BASKETBALL: NDSCS vs. Iowa Western at Iowa Western Thanksgiving Classic, 7 p.m.
LOCAL BROADCAST SCHEDULE
TUESDAY
GIRLS BASKETBALL: Dilworth-Glyndon-Felton at Breckenridge, 7:30 p.m. (B92.7 FM)