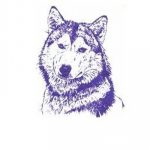 The Wahpeton Huskies built an early 12-point lead and led by 18 points at the half to beat Valley City 60-45 in the season opener for the Huskies at Valley City on Tuesday.
Wahpeton led by as many as 24 points in the second half before reserves finished out the game.
Tyler Tollefson led the way for Wahpeton with 24 points off the bench. Tollefson scored 18 of his points in the first half and made a team-high high five 3-pointers. Isaac Loosmore added 10 points.
LADY HUSKIES FALL TO VALLEY CITY
The Lady Huskies fell behind 32-7 in the first half and could never catch up as the Hi-Liners beat Wahpeton 76-41 on Tuesday in Valley City.
The game was the season opener for the Lady Huskies.
Valley City (1-1) led by as many as 42 points in the second half.
Cassie Devillers, Jordan Kahler and Emily DeVries each scored six points to leady Wahpeton.
COWBOYS COME UP SHORT AT BARNESVILLE
The Breckenridge Cowboys trailed for most of Tuesday's game at Barnesville, falling 61-57 to the Trojans.
The Cowboys, now 0-3 to start the season, trailed by 15 points in the first half before cutting the lead to as many as four points late in the game, but no closer.
Jonah Christensen led Breckenridge with 16 points and 11 rebounds and had four assists. Tyson Piechowski added 10 points and Junior Perez had seven points and seven steals.
HIGH SCHOOL BASKETBALL SCOREBOARD
TUESDAY
Girls
Kindred 76, Oakes 53
Milnor-North Sargent 82, Maple Valley 58
Fargo Shanley 67, West Fargo 53
Fargo Davies 54, Fargo South 33
Devils Lake 70, Grand Forks Central 34
Williston 61, Minot 57
Jamestown 65, Bismarck St. Mary's 56
Bismarck Century 64, Dickinson 40
Moorhead 47, Brainerd 24
Hawley 78, Fargo Oak Grove 31
Rothsay 62, Ashby 36
Ada-Borup 50, Fosston 40
Perham 55, Thief River Falls 33
Frazee 59, Battle Lake 20
Detroit Lakes 72, Fergus Falls 25
Grand Forks Red River 79, West Fargo Sheyenne 37
Boys
West Fargo 79, Fargo Shanley 61
Fargo Davies 99, Fargo South 64
West Fargo Sheyenne 65, Grand Forks Red River 63
Devils Lake 68, Grand Forks Central 56
Mandan 80, Bismarck 71
Bismarck Century 64, Dickinson 59
Minot 85, Williston 67
Jamestown 111, Bismarck St. Mary's 64
Moorhead 64, Rogers 57
Pelican Rapids 72, Dilworth-Glyndon-Felton 70
Frazee 77, Hawley 73
Rocori 73, Fergus Falls 69
Barnesville 61, Breckenridge 57
BLADES WIN THIRD STRAIGHT
The B-W Blades won its third straight game with a 3-0 win Tuesday at home over May-Port CG. The Blades are now 4-1 on the early season.
Jase Jensen scored two goals for the Blades and Carson Hought added the third goal. Jack Rittenour had an assist. Jared Aamodt got the shutout in goal with 19 saves.
HUSKIES HOST VALLEY CITY, LISBON IN TRIANGULAR
The Wahpeton Huskies hosted Valley City and Lisbon in a wrestling triangular Tuesday at Wahpeton High School.
Valley City beat Wahpeton 56-15 and Lisbon topped the Huskies 60-21.
Against the Hi-Liners, winners for Wahpeton were Tanner Thiel by forfeit at 170 pounds, Garrett Lathrop a 1-0 decision at 182 and Josh Krump at 285 with a pin in 13 seconds.
Against the Broncos, Hunter Owens won at 132 with a 12-7 decision, Kaleb Mostoller won by pin in 1:12 at 145, Lathrop by forfeit at 195 and Krump recorded a pin at 220.
UM-CROOKSTON, ST. CLOUD STATE TO DROP FOOTBALL
Officials at the University of Minnesota-Crookston and St. Cloud State said Tuesday the schools are eliminating their football programs because of costs.
UMN-Crookston said the recently completed 2019 season is the last as a varsity sport.
Athletic director Stephanie Helgeson said discontinuing the football program was "the right decision" for the long-term health of the Golden Eagle athletics department.
St. Cloud State plans to end its football and golf programs to comply with a Title IX court order and manage its budget shortages.
The moves will start next fall.
Men's soccer will be added to keep the program in compliance with NCAA rules.
The school eliminated six athletic programs in 2016, which led to a lawsuit by athletes claiming the university violated Title IX, the federal law that bans sex discrimination in educational programs.
CRUZ NAMED TO INAUGURAL ALL-MLB TEAM
Minnesota designated hitter Nelson Cruz was named to the inaugural All-MLB team on Tuesday. Cruz was a first-team selection with Houston's Yordon Alvarez on the second team.
The teams were chosen by a combination vote of fans and a panel of media, broadcasters and former players.
Cruz also won the Silver Slugger award last month as MLB's top designated hitter.
WILD FALLS TO DUCKS
Anaheim won the shootout 2-0 to beat the Minnesota Wild 3-2 on Tuesday.
Minnesota trailed 2-0 before tying the game on goals by Ryan Donato and Ryan Hartman.
WEEKLY LOCAL SCHEDULE
WEDNESDAY
WOMEN'S BASKETBALL: NDSCS at Northeast Community College, 5 p.m.
MEN'S BASKETBALL: NDSCS at Northeast Community College, 7 p.m.
THURSDAY
BOYS BASKETBALL: Fargo Shanley at Wahpeton, 7:30 p.m. (KBMW)
GIRLS BASKETBALL: Perham at Breckenridge, 7:30 p.m. (B92.7 FM); Wahpeton at Fargo Shanley, 7:30 p.m.; Wyndmere-Lidgerwood at Hankinson, 7:30 p.m.; Oakes at Richland, 7:30 p.m.; Milnor-North Sargent vs. TBD at Valley City State Invitational, TBD
FRIDAY
BOYS BASKETBALL: Breckenridge at Perham, 7:30 p.m.; Tri-State at Wyndmere-Lidgerwood at Lidgerwood, 7:30 p.m.; Milnor-North Sargent at Oakes, 7:30 p.m.
GIRLS BASKETBALL: Breckenridge at West Central Area, 7:30 p.m.
GYMNASTICS: Morris Area at Wahpeton-Breckenridge, 6 p.m.
HOCKEY: Breckenridge-Wahpeton at Red Lake Falls, 7 p.m.
WRESTLING: Wahpeton at Grand Forks Invitational, all day
SATURDAY
BOYS BASKETBALL: Tri-State at Waubay-Summit, 7:30 p.m.
GIRLS BASKETBALL: Tri-State at Waubay-Summit, 6 p.m.; Wilmot at Richland, 7:30 p.m.; Milnor-North Sargent vs. TBD at Valley City State Invitational, TBD
BOYS SWIMMING AND DIVING: Wahpeton-Breckenridge at Fargo Davies Invitational, 10 a.m.
WRESTLING: Wahpeton at Grand Forks Invitational, all day; Breckenridge at Barnesville Invitational, all day
COLLEGE FOOTBALL: Illinois State at NDSU, FCS playoffs, 11 a.m. (KBMW)