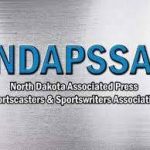 The Jamestown boys and Bismarck Century girls remained No. 1 in the N.D. Class A boys and girls basketball polls released Wednesday by the N.D. Sportscasters and Sportswriters Association.
The Blue Jays received 17 of the 20 first-place votes to stay in first place in the boys poll. Fargo Davies picked up the other three first-place votes and were second. West Fargo Sheyenne, Minot and Bismarck Legacy rounded out the top five. Legacy was the lone newcomer to the poll.
Century was tabbed No. 1 by 19 of the 20 votes to easily outdistance Fargo Shanley for the top spot. All five spots remained unchanged from last week with Devils Lake third, Bismarck Legacy fourth and Mandan fifth.
HIGH SCHOOL BASKETBALL SCOREBOARD
WEDNESDAY
Boys
Wheaton-Herman-Norcross 67, Wyndmere-Lidgerwood 55
Hankinson 72, Clinton-Graceville-Beardsley 35
COLLEGE FOOTBALL
North Dakota State coach Mat Entz's first full recruiting class of 24 players included North Dakota State College of Science offensive lineman Nick Radunz and 12 high school players from either North Dakota or Minnesota.
Radunz starred for the Wildcats for two seasons on the offensive line and is the only junior college recruit for the Bison.
Other area recruits include Moorhead lineman Seth Anderson, Buxton linebacker Oscar Benson, Ada lineman Mason Miller, Fargo safety Ty Satter, Cavalier tight end Andre Carrier and West Fargo wide receiver Tyler Terhark. West Fargo Sheyenne running back Nathan Goldade, who missed all of this season with a knee injury, is expected to sign in the February signing period.
North Dakota signed 25 players on Wednesday, including 12 players from North Dakota and Minnesota.
Barnesville tight end/defensive end Hunter Zenzen signed Wednesday with Iowa State.
MINNESOTA TIMBERWOLVES
Minnesota center Karl-Anthony Towns missed his third straight game Wednesday with a left knee strain as the Wolves lost to New Orleans Pelicans.
Towns has played since Dec. 13. He leads the team at 26.5 pounds and 11.7 rebounds a game this season.
MINNESOTA TWINS
The Minnesota Twins announced their Winter Caravan tour on Wednesday, one that does not include a stop in the Twin Towns.
The caravan will be in Thief River Falls Monday, Jan 20 at 2 p.m. and in Fargo at the Sanctuary Events Center at 6:30 p.m. the same day.
The Twins announced a shorter caravan tour this winter due to spring training starting earlier than normal.
The caravan had made regular stops in Wahpeton-Breckenridge prior to this season.
The Caravan will also be in Brainerd, Duluth, St. Cloud, Glencoe, St. Paul Minneapolis, Worthington, Sioux Falls, New Ulm, Mankato, Hastings and Winona.
LOCAL SCHEDULE
Broadcasts in parentheses
THURSDAY
BOYS BASKETBALL: Breckenridge at Frazee, 7:30 p.m.; Milnor-North Sargent at Sargent Central, 7:30 p.m.
GIRLS BASKETBALL: Underwood at Breckenridge, 7:30 p.m.; Wilmot at Wyndmere-Lidgerwood at Lidgerwood, 7:30 p.m.; Maple Valley at Hankinson, 7:30 p.m.; May-Port-CG at Richland, 7:30 p.m.
GYMNASTICS: Fargo Davies, West Fargo Sheyenne at Wahpeton, 5 p.m.
WRESTLING: West Fargo Sheyenne at Wahpeton, 5 p.m.; Breckenridge at Wahpeton, 7:30 p.m. (B92.7 FM)
FRIDAY
BOYS BASKETBALL: Devils Lake at Wahpeton, 5:45 p.m. (KBMW); Hankinson at Wilmot, 7:30 p.m.; Richland at Sargent Central, 7:30 p.m.
GIRLS BASKETBALL: Devils Lake at Wahpeton, 7:30 p.m. (KBMW); LaMoure-Litchville-Marion at Milnor-North Sargent, 7:30 p.m.
HOCKEY: B-W Blades at Dickinson, 7 p.m.
SATURDAY
BOYS BASKETBALL: Richland vs. Aberdeen Roncalli at Jamestown, TBD
BOYS SWIMMING AND DIVING: Wahpeton-Breckenridge at Fargo North Invitational, 10 a.m.
GYMNASTICS: Wahpeton-Breckenridge at Milbank Invitational, 11 a.m.
HOCKEY: B-W Blades at Mandan, 2 p.m.
WRESTLING: Wahpeton at Valley City, TBD