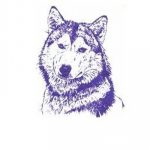 Wahpeton hosted rival Breckenridge and West Fargo Sheyenne in a triangular Thursday and came away with two wins. The Huskies beat Sheyenne 42-39 and the Cowboys 52-22. Breckenridge also lost 48-30 to Sheyenne.
Against the Cowboys, the Huskies won four matches on the mat and five by forfeit.
Hunter Owens won by pin at 132, Jackson Burchill by decision at 170 and Tanner Thiel by decision at 182.
The highlight of the dual came at 220 pounds where Wahpeton's Josh Krump and Breckenridge's Daniel Erlandson squared off. Krump held off Erlandson 3-2 in a match that went to the ultimate tiebreaker. The match ended 1-1 in regulation and each wrestler scored a point in the two 30-second overtime sessions. Going to an ultimate tiebreaker, the first wrestler to score wins. Krump had the advantage of starting from the bottom due to taking the first lead of the match and escaped Erlandson for the win.
The Cowboys got wins by Alex Martel by pin at 126, Grant Davis by pin at 138 and Aiden Ruddy by major decision at 145.
HIGH SCHOOL BASKETBALL
Breckenridge's Cooper Yaggie followed up his 35-point performance Tuesday with 20 points Thursday to lead the Cowboys to a 72-61 win over Frazee at Frazee.
The Cowboys won their second straight to improve to 2-4 on the season.
Jonah Christensen followed Yaggie with 18 points and 14 rebounds for a double-double with Tyson Piechowski adding his own double-double with 11 points and 10 rebounds.
====
Riley Lorenz led a balanced offensive attack with15 points as the Breckenridge Cowgirls beat Underwood 63-50 on Tuesday.
Lorenz scored 10 of her points in the second half. Grace Conzemius added 13 points and a team-high 15 rebounds and Jude Held 12 points with Camryn Kaehler scoring eight and Abby Johnson seven.
LOCAL HIGH SCHOOL BASKETBALL SCOREBOARD
THURSDAY
Boys
Milnor-North Sargent 60, Sargent Central 54
Pelican Rapids 72, Hawley 65
Moorhead 64, Fergus Falls 47
Perham 78, Dilworth-Glyndon-Felton 65
Norman County East-UH 63, Moorhead Park Christian 57
East Grand Forks 71, Grand Forks Central 55
Fargo North 66, Fargo Shanley 65
East Grand Forks 71, Grand Forks Central 55
Girls
Richland 56, Mayville-Portland-CG 43
Hankinson 51, Maple River 43
Hawley 44, Wadena-Deer Creek 32
Henning 57, Battle Lake 23
Frazee 75, Norman County East/UH 38
Moorhead 66, Grand Forks Red River 62
Dilworth-Glyndon-Felton 51, East Grand Forks 49
Fergus Falls 87, St. Cloud Apollo 27
Fargo Shanley 85, Fargo North 48
Moorhead 66, Grand Forks Red River 62
HIGH SCHOOL GYMNASTICS
Breckenridge-Wahpeton hosted Fargo and Fargo Davies in a triangular Tuesday at Three Rivers Gymnastics. Fargo won the team title with 124.1 points with B-W second with 122.4 and Davies third with 115.6
Individually, Abbie Skovholt won the bars with a score of 7.5 and Hailee Hanson was first on the vault at 8.45. Hanson also was second on the beam at 8.35 and floor at 8.7 to finish second in the all-around at 31.9. Skovholt was third in the all-around at 31.65 with Anika Birkelo fourth at 31.05.
COLLEGE FOOTBALL
The North Dakota State Bison will host Montana State in an FCS semifinal game Saturday at the Fargodome. The game starts at 1 p.m. with the pregame show at 12:30 p.m. on KBMW.
The Bison come in a perfect 14-0 this season and having won 35 straight games over the last three years. Montana State is coming in hot as well with a 6-game winning streak.
MINNESOTA VIKINGS
Dalvin Cook didn't practice Thursday for the Minnesota Vikings, but hasn't given up on playing Monday night against Green Bay.
Cook reinjured his shoulder Sunday in a win over the L.A. Chargers.
Also not practicing Thursday was backup running back Alexander Mattison. If Cooks and Mattison can't play Monday, third-stringer Mike Boone would get his first career start.
The Vikings can clinch a playoff spot with either a win or tie against Green Bay or a loss or tie by the L.A. Rams at San Francisco. Minnesota would need to win its final two games and have Green Bay lose both its games to win the NFC North.
LOCAL SCHEDULE
Broadcasts in parentheses
FRIDAY
BOYS BASKETBALL: Devils Lake at Wahpeton, 5:45 p.m. (KBMW); Hankinson at Wilmot, 7:30 p.m.; Richland at Sargent Central, 7:30 p.m.
GIRLS BASKETBALL: Devils Lake at Wahpeton, 7:30 p.m. (KBMW); LaMoure-Litchville-Marion at Milnor-North Sargent, 7:30 p.m.
HOCKEY: B-W Blades at Dickinson, 7 p.m.
SATURDAY
BOYS BASKETBALL: Richland vs. Aberdeen Roncalli at Jamestown, TBD
BOYS SWIMMING AND DIVING: Wahpeton-Breckenridge at Fargo North Invitational, 10 a.m.
GYMNASTICS: Wahpeton-Breckenridge at Milbank Invitational, 11 a.m.
HOCKEY: B-W Blades at Mandan, 2 p.m.
WRESTLING: Wahpeton at Valley City, TBD