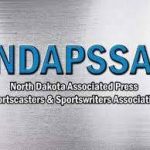 The Jamestown boys and Bismarck Century girls each received 11 of 14 first-place votes to retain the top spot in this week's Class A N.D. Sportscasters and Sportswriters Poll.
Jamestown remains No. 1 in Class A boys, followed by Fargo Davies and West Fargo Sheyenne. All three teams are the remaining unbeaten teams in Class A boys. Minot is fourth and Dickinson jumped into the poll at No. 5.
There was more shakeup in the girls poll with only Century remaining in its same spot from last week.
Devils Lakes received the other 3 first-place votes and moved up to second with Bismarck Legacy third, Fargo Shanley fourth and Fargo Davies fifth.
Four Winds-Minnewaukan, Kindred remain No. 1 in Class B polls
Four Winds-Minnewaukan was the top vote-getter again in the Class B boys Sportscasters and Sportswriters poll, while the Kindred girls dominated the Class B girls poll.
FW-M picked up 13 of 17 first-place votes in the B poll as the top five teams remained the same from last week. Hillsboro-Central Valley got 3 first-place votes for second and Rugby 1 to remain third. Shiloh Christian was fourth, followed by Richland fifth, Linton-HMB sixth, Beulah seventh, Dickinson Trinity eighth, Langdon-Edmore-Munich ninth and Enderlin moved into the top 10 for the first time at No. 10.
The kindred girls got 15 first-place votes to outdistance Langdon-Edmore-Munich for the top spot in the girls poll. Kidder County was third with Linton-HMB fourth, Trenton fifth, Four Winds-Minnewaukan sixth, Mohall-Lansford-Sherwood seventh, Grafton eighth, Thompson ninth and Rugby 10th.
COLLEGE FOOTBALL
Bison now in prep mode for FCS title game
The NDSU Bison have three weeks to prepare for the FCS championship game on Jan. 11 in Frisco, Texas, against James Madison.
Both teams won convincing semifinal games last Saturday.
The Bison, winners of 36 straight games, who were playing in the FCS semifinals for the ninth straight season and now have won seven of the last eight.
James Madison in the last team to beat NDSU in the playoffs, beating the Bison in the 2016 semifinals.
MINNESOTA VIKINGS
Vikings humbled in loss to Packers
The Minnesota Vikings could only muster 139 yards of total offense and Green Bay's Aaron Jones eclipsed that total by himself with 154 rushing yards as the Packers beat the Vikings 23-10 Monday at U.S. Bank Stadium.
The win clinched the NFC North for Green Bay while Minnesota has been relegated to the No. 6 seed for the upcoming NFL playoffs.
Minnesota led 10-3 in the second quarter and 10-9 at the half before the Packers scored a touchdown and 2-point conversion in the third quarter for a 17-10 lead. Green Bay clinched the win with a Jones 56-yard touchdown run with 6 minutes left in the game.
The Minnesota offense missed Dalvin Cook, out with a shoulder injury. Kirk Cousins was just 16 of 31 passing for 122 yards and Mike Boone was the team's leading rusher with 28 yards.
The Vikings will finish the regular season at home against Chicago on Sunday in game that's meaningless for both teams. As the sixth seed, the Vikings will play the No. 4 seed from the NFC in a wild-card game on the weekend of Jan. 4th and 5th.
LOCAL SCHEDULE
Broadcasts in parentheses
FRIDAY
BOYS BASKETBALL: Breckenridge vs. Gregory, S.D., at Mitchell, S.D., 1 p.m.; Tri-State at Sargent Central, 5 p.m.; Hillsboro at Richland, 7:45 p.m.
GIRLS BASKETBALL: Breckenridge vs. Lake Park-Audubon at Pelican Rapids tournament, 12:45 p.m.
HOCKEY: B-W Blades vs. Wadena-Deer Creek at Wadena Invitational, TBD
SATURDAY
BOYS BASKETBALL: Breckenridge vs. McIntosh, S.D., at Mitchell, S.D., 8 a.m.
GIRLS BASKETBALL: Breckenridge vs. TBD at Pelican Rapids tournament, TBD
HOCKEY: B-W Blades vs. TBD at Wadena Invitational, TBD
MONDAY, DEC. 30
MEN'S BASKETBALL: University of Winnipeg at NDSCS, 6 p.m.