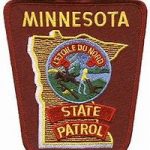 The Minnesota State Patrol reported that a man from Whitehall, Mont,, was killed following a crash on Highway 9 in Wilkin County on New Year's Eve.
The report says a 69-year-old driver veered into oncoming traffic around 6:45 p.m. and crashed into a vehicle carrying five people.
The driver of the pickup, whose identity has not yet been released, died at the scene.
The five in the other vehicle were all taken to CHI St. Francis Hospital with non-life threatening injuries.
They have been identified as driver Carolyn Holecek of Fergus Falls and passengers Eric Francis, Julie Francis and David Holecek, all of Thief River Falls. A 4-year-old child from Thief River Falls was also in the vehicle.
The state patrol reports the man killed was not wearing a seatbelt.