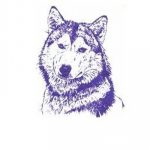 Wahpeton senior Jordyn Kahler scored 25 points to pass the 1,000-point mark in the Lady Huskies' 58-51 loss at home to Fargo South on Friday.
Kahler, now with 1,006 points, becomes just the fourth Wahpeton girls basketball player to score over 1,000 points.
Haley Kjar added 11 points for Wahpeton.
Cowgirls come up just short on road
The Breckenridge Cowgirls lost 47-45 at Hawley on Friday.
HIGH SCHOOL WRESTLING
Krump places second at prestigious Bismarck Rotary Tournament
Wahpeton's Josh Krump went 4-1 this past weekend to place second at the 30-team Bismarck Rotary Tournament.
Krump won his first three matches by pin to advance to the semifinals against Watertown's Lincoln Stahl. There Krump won a 5-1 decision to advance the championship match.
Krump faced Sidney, Montana's Brodey Skogen in the final and lost 10-2.
Also winning matches for Wahpeton were Hunter Owens at 126, Shea Truesdell at 138, Garrett Lathrop at 170, Jordan Miller at 182 and Logan Gjerdevig at 195.
Wahpeton scored 41 points as a team to finish 25th.
GIRLS GYMNASTICS
Skovholt places fourth at Fargo Invite
Wahpeton-Breckenridge's Abbie Skovholt finished fifth in the all-around Friday at the Fargo South Invitational with a score of 33.92 points.
Skovholt placed second on the vault at 9.02, fourth on the beam at 8.37 and seventh on the bars at 7.92.
Also for Breck-Wahp, Kiah Klein placed third on the vault at 8.92.
The locals finished sixth overall with 116.67 points. Bismarck Legacy won the title at 139.05.
HIGH SCHOOL HOCKEY
Blades top Becker-Big Lake
The B-W Blades went on the road Saturday and topped Becker-Big Lake 4-2 for the team's 10th win of the season.
Jase Jensen scored twice and added an assist while Tanner Barth and James Finkral each tallied a goal for the Blades.
Hunter Wamre made 27 saves in goal for the win.
U19 girls team goes 1-2 on weekend
The B-W Blades U19 girls hockey team went 1-2 this past weekend with three games in three days.
B-W lost 2-1 to Crosby on Friday with Rylie Finkral scoring the lone goal and Fallon Phelps stopping 38 shots in net.
Saturday, B-W beat Watford City 5-1 with Regan Wohlers collecting four goals and Alison Hoerer one. Phelps had 14 saves in goal for the win.
Sunday, the Blades finished the weekend with a 7-2 loss to Richland as Wohlers and Kennedy Schuler each scored a goal.
COLLEGE BASKETBALL
NDSCS splits with MCC
Damien Gordon and Duoth Gach (like its spelled) combine for 44 points Sunday to lead the North Dakota State College of Science Wildcats to an 87-73 win over Miles Community College in Miles, Mont.
The NDSCS women's team lost 63-59.
The Wildcats trailed 44-39 at the half before outscoring MCC 48-29 over the final 20 minutes.
Gordan led the 'Cats with 24 points while Gach added 20. Khari Broadway scored 13 points and had four assists.
The Lady Wildcats erased a seven-point halftime deficit to lead by a point going into the fourth quarter but couldn't sustain the momentum in the loss to MCC.
Kate Carlson led the way for NDSCS with 17 points and 10 rebounds off the bench while Justyna Butler scored nine points.
COLLEGE FOOTBALL
Bison beat James Madison for FCS championship
James Hendricks scored on a fake field and intercepted a pass in the end zone late in the game as North Dakota State beat James Madison 28-20 for the program's eighth national championship in nine seasons. NDSU also stretched its FCS-record winning streak to 37 games in a row.
Trey Lance, who won the Walter Payton Award on Friday, ran for a touchdown early in the fourth quarter to put the Bison up 28-13.
James Madison scored midway through the fourth quarter to cut the lead to 28-20 and drove to the Bison 3-yard line late in the game before Hendricks' interception sealed the championship.
MINNESOTA VIKINGS
Offense goes cold for Vikings in 27-10 loss to 49ers
Minnesota produced just 81 yards and four first downs on its first nine drives Saturday in the NFC divisional playoff game on Saturday at San Francisco as the 49ers pounded the Vikings 27-10.
Forty-one of those 81 yards came on a 41-yard touchdown pass from Kirk Cousins to Stephon Diggs in the second quarter that tied the game at 7-7.
From there is was all San Francisco as the 49ers outscored the Vikings 20-3.
Cousins was 21 of 29 passing for 172 yards and sacked six times as the San Francisco pass rush harassed the QB all day.
On Sunday, the Cleveland Browns announced they were hiring Vikings offensive coordinator Kevin Stefanski as their now head coach.
LOCAL SCOREBOARD
SATURDAY
Girls Basketball
Minnesota
Moorhead 65, Tartan 39
Morris Area-Chokio-Alberta 86, Lac qui Parle Valley 55
Wheaton-Herman-Norcross 69, Tri-State 33
Crookston 76, Cass Lake-Bena 32
Hawley 58, Brandson-Evansville 53
North Dakota
Hankinson 40, Griggs County Central 26
Wheaton-Herman-Norcross 69, Tri-State 33
Sisseton 51, Lisbon 44
Jamestown 72, Dickinson 69
Mandan 54, Williston 51, OT
Fargo North 66, Fargo South 58
Devils Lake 50, Grand Forks Red River 46
Fargo Davies 70, Grand Forks Central 39
Boys Basketball
Minnesota
D-G-F 84, Badger-Greenbush-Middle River 58
Barnesville 69, Warroad 55
Pelican Rapids 64, Battle Lake 50
Henning 77, New York Mills 41
Morris Area 75, Lac qui Parle Valley 74
North Dakota
Hankinson 56, Griggs County Central 53
Jamestown 74, Dickinson 59
Mandan 69, Williston 53
Grand Forks Central 77, Fargo Davies 69
Fargo North 57, Fargo South 55
LOCAL SCHEDULE
(Broadcasts in parentheses)
MONDAY
BOYS BASKETBALL: Tri-State at Waverly-South Shore, 7:30 p.m.
GIRLS BASKETBALL: Hankinson at Wyndmere-Lidgerwood, 7:30 p.m.; Fargo Oak Grove at Richland, 7:30 p.m.; Milnor-North Sargent at Oakes, 7:30 p.m.
TUESDAY
BOYS BASKETBALL: Fargo North at Wahpeton, 7 p.m. (KBMW); Pelican Rapids at Breckenridge, 7:30 p.m. (B92.7 FM); Central Cass at Tri-State at Rosholt, 7:30 p.m.; Milnor-North Sargent at VCSU Tournament, TBD
GIRLS BASKETBALL: Breckenridge at Fergus Falls Hillcrest, 7:30 p.m.; Wahpeton at Hankinson, 7:30 p.m.
HOCKEY: Wadena-Deer Creek at B-W Blades, 7 p.m.