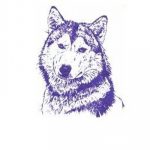 The Wahpeton Lady Huskies built an eight-point halftime lead and held off Fargo South 69-62 on Thursday in the regular-season finale for both teams.
The win lifts the Lady Huskies, 5-16 overall, into eighth place in the East Region standings and Wahpeton will host a play-in game Saturday. Wahpeton will play No. 9 seed Grand Forks Central at 2 p.m. at Wahpeton High School
Jordyn Kahler led five Lady Huskies in double figures with 21 points and also tied for team high in rebounds with eight. Haley Kjar added 14 points, Emily DeVries 12 points and eight rebounds and McKenna Koolmo 11 points and seven boards.
Cowgirls fall in section opener
The Breckenridge Cowgirls went on the road Thursday to open Minn. Section 8AA tournament play looking for an upset and barely missed, falling 53-47 at Perham.
The Cowgirls were the No. 6 seed in the south half of the section with the Yellowjackets the No. 3 seed. The Cowgirls end the season at 15-12.
Huskies break losing skid against South
Jared Bartels made two free throws with four seconds left to lead the Wahpeton Huskies to a 76-75 win over Fargo South in Wahpeton to snap a 9-game losing for the Huskies.
Wahpeton led by 11 early, but trailed by eight in the second half before rallying to win.
Bartles finished with 26 points and 10 rebounds while Jared Tollefson added 15 points and Blake Majejcek 11 in the win.
Wahpeton will be the No. 9 seed for East Region tournament and will play a play-in game at Fargo North at 1:30 p.m. on Saturday.
Region 1 boys pairings announced
The pairings for the N.D. Class B Region 1 boys tournament were announced late Thursday.
Kindred is the top overall seed with Enderlin No. 2 and Richland No. 3.
Play-in games Tuesday have No. 8 seed Maple Valley hosting No. 9 Milnor-North Sargent, No. 4 Central Cass hosting No. 13 Sargent Central, No. 5 Fargo Oak Grove hosts No. 12 Wyndmere-Lidgerwood and No. 7 Tri-State hosts No. 10 Lisbon.
The quarterfinals are Monday, March 9 at NDSCS starting at 3 p.m. The semifinals are March 10 with the championship March 12 at 7:30 p.m.
Region titles on line Thursday across North Dakota
Seven N.D. Class B regional girls basketball teams earned spot in the state tournament Thursday across the state.
Region 2: Grafton 58, Thompson 38
Region 3: LaMoure-Litchville-Marion 54, Kidder County 48
Region 4: Langdon-Edmore-Munich 69, Four Winds-Minnewaukan 41
Region 5: Shiloh Christian 54, Flasher 48
Region 6: Rugby 46, Velva 32
Region 7: Hettinger-Scranton 64, Beach 51
Region 8: Trenton 45, Kenmare 29
The eighth region championship will the Region 1 title tonight between Kindred and Central Cass. Richland plays Northern Cass for third place starting at 6 p.m. with the title game to follow. Both games can be heard on KBMW.
HIGH SCHOOL WRESTLING
Erlandson, Ruddy wrestle at state
Breckenridge's Brian Erlandson and Adian Ruddy begin action today at the Minn. State Wrestling Championships at the Xcel Center in St. Paul.
Erlandson, 35-4 this season, is ranked No. 3 at 220 pounds and will open his tournament against Gavin McLevis of Ogilvie. Ruddy, 34-10, wrestles No. 6 ranked Blake Reiss of Minneota.
The meet continues through tomorrow
HIGH SCHOOL SCOREBOARD
THURSDAY
GIRLS
Minnesota
Minn. Section 8AA tournament
No. 1 Hawley 68, No. 8 Warroad 7
No. 4 Menahga 36, No. 5 Frazee 30
No. 2 Pelican Rapids 50, No. 7 Barnesville 39
No. 3 Crookston 34, No. 6 East Grand Forks 28
No. 1 Fergus Falls 63, No. 8 Wadena-Deer Creek 42
No. 4 Park Rapids 86, No. 5 Dilworth-Glyndon-Felton 75
No. 2 Roseau 55, No. 7 Thief River Falls 30
No. 3 Perham 53, No. 6 Breckenridge 47
North Dakota
Grand Forks Red River 64, Fargo Shanley 47
Fargo Davies 63, West Fargo Sheyenne 61
West Fargo 61, Fargo North 48
Wahpeton 67, Fargo South 62
West Region play-in game: No. 6 Minot 99, No. 11 Turtle Mountain 29
BOYS
Minnesota
Bemidji 75, Detroit Lakes 51
West Central Area 71, Brandon-Evansville 42
Ashby 76, Wheaton-Herman-Norcross 67
North Dakota
West Fargo 97, Fargo North 59
Fargo Davies 69, West Fargo Sheyenne 68
Grand Forks Red River 68, Fargo Shanley 64
Fargo Oak Grove 64, Northern Cass 58
Central Cass 77, Sargent Central 31
Kindred 53, Enderlin 48
Richland 55, Maple Valley 45
Tri-State 57, Lisbon 54
Milnor-North Sargent 64, Hankinson 61
COLLEGE BASKETBALL
Wildcats begin Region 13 tournament today
The North Dakota State College of Science Wildcats will begin Region 13 tournament with a semifinal game tonight at 8:30 p.m. against Miles Community College, who beat Lake Region College 108-62 in a first-round game Thursday in Glendive, Mont. No. 4 seed Williston State topped No. 5 Bismarck State 91-80 in the other first-round game.
NDSCS is the No. 2 seed for the tournament with Dawson Community College being the host after winning the regular-season title.
The championship game is set for Saturday at 7 p.m.
The women's Region 13 tournament begins today in Bismarck with Miles CC playing Williston State and Lake Region State playing Dawson CC.
The Lady Wildcats are the No. 2 seed and will play the winner of the Miles-Williston game Saturday at 1 p.m.
NDSU outlasts SDSU in Summit thriller
The North Dakota State Bison now have the inside track for the Summit League regular-season championship after edging South Dakota State 71-69 in overtime Thursday in Fargo.
The Bison, now 21-8 overall and 12-3 in Summit League play, can clinch the title Saturday with a win over Nebraska-Omaha at home.
Tyson Ward finished with 24 points and seven rebounds to lead the Bison while Vinnie Shahid added 12 points.
LOCAL SCHEDULE
(Broadcasts in parentheses)
FRIDAY
BOYS BASKETBALL: Breckenridge at Mahnomen-Wauban, 7:30 p.m.
GIRLS BASKETBALL: Region 1 tournament at Fargo – Third-place game, Richland vs. Northern Cass, 6 p.m.; Championship game, Kindred vs. Central Cass, 7:30 p.m. (KBMW)
MEN'S BASKETBALL: NDSCS vs. Miles Community College at Region 13 Tournament at Dawson Community College, 8:30 p.m.
GYMNASTICS: N.D. State Tournament at Dickinson, all day
WRESTLING: Breckenridge at Minn. Class A Wrestling Tournament, Xcel Center, all day
SATURDAY
BOYS BASKETBALL: N.D. Class A East Region play-in – Wahpeton at Fargo North, 1:30 p.m.
GIRLS BASKETBALL: N.D. Class A East Region play-in – Grand Forks Central at Wahpeton, 2 p.m. (B92.7 FM)
GYMNASTICS: N.D. State Tournament at Dickinson, all day
MEN'S BASKETBALL: NDSCS vs. TBD at Region 13 Tournament at Dawson Community College, TBD
WOMEN'S BASKETBALL: NDSCS vs. TBD at Region 13 Tournament at Bismarck State College, 1 p.m. (KBMW)
WRESTLING: Breckenridge at Minn. Class A Wrestling Tournament, Xcel Center, all day
SUNDAY
WOMEN'S BASKETBALL: NDSCS vs. TBD at Region 13 Tournament at Bismarck State College, TBD