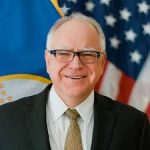 A day after announcing a statewide strategy for widespread testing, Minnesota Governor Tim Walz today outlined next steps for the COVID-19 response in Minnesota on Thursday. The governor extended distance learning through the end of the school year, announced a plan for up to 100,000 workers to safely return to their jobs, and explained the different factors determining the gradual re-opening of society in Minnesota.
Walz explained his approach for moving Minnesota forward amid COVID-19. With the health and safety of Minnesotans his top priority, he made clear the Stay Home order remains in effect as we consider ways to gradually loosen restrictions starting with settings most conducive to safe practices.
Walz announced that distance learning will continue through the rest of the 2019-2020 school calendar year. The state continues to pursue opportunities to expand technology for students, provide guidance for educators on how to best connect with students, and support families.
"As a former teacher, this is a heartbreaking decision," Governor Walz said. "I am sorry for all of our students who will miss out on graduations, tournaments, and end of year celebrations. While I recognize distance learning is a challenge for many families, it is critical to social distancing in Minnesota and supports the health of Minnesota's families. We will continue looking for ways to improve the current system and better support our children."
As he laid out his approach for gradually loosening restrictions on Minnesota businesses over time, Walz announced his decision to allow certain non-critical businesses to safely return to work. Developed in partnerships with hundreds of businesses, labor and worker organizations, and public health experts, this action will allow 80,000-100,000 Minnesotans to return to work in industrial, manufacturing, and office settings on Monday, April 27.