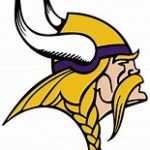 The Minnesota Vikings will open the 2020 NFL season at home against the Green Bay Packers at noon on Sunday. Sept. 15 as the NFL announced its schedule for this season.
This will mark the first time the Vikings have hosted the Packers in the season opener.
Minnesota is on the road at Indianapolis the following week. The Colts will have a new quarterback in Phillip Rivers this season.
The Vikings will have one Monday night game at Chicago on Nov. 16 and one Sunday night game with games at Seattle on Oct. 11. Other highlights include a week 14 game at Tom Brady and the Tampa Bay Buccaneers and a road game on Christmas Day against New Orleans.
The regular season ends with a road game at Detroit on Jan. 3.
Here is Minnesota's complete schedule. Home games in bold
Sept 13 – Green Bay, noon (FOX)
Sept. 20 – at Indianapolis, noon (FOX)
Sept. 27 – Tennessee, noon (CBS)
Oct. 4 – at Houston, noon (FOX)
Oct. 11 – at Seattle, 7:20 p.m. (NBC)
Oct. 18 – Atlanta, noon (FOX)
Oct. 25 – bye
Nov. 1 – at Green Bay, noon (FOX)
Nov. 8 – Detroit, noon (CBS)
Nov 16 – at Chicago, 7:15 p.m. (ESPN)
Nov. 22 – Dallas, 3:25 p.m. (FOX)
Nov. 29 – Carolina, noon (FOX)
Dec. 6 – Jacksonville, noon (CBS)
Dec. 13 – at Tampa Bay, noon (FOX)
Dec. 20 – Chicago, noon (FOX)
Dec. 25 – at New Orleans, 2:30 p.m. (FOX)
Jan . 3 – at Detroit, noon (FOX)